TNA Impact, 2007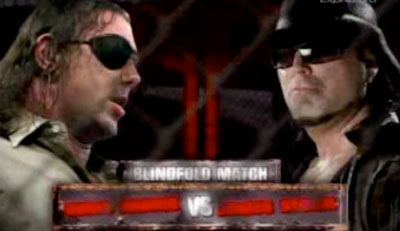 I went to AEW Double or Nothing Saturday night.
I say that not to make you jealous, but because believe it or not it actually ties into tonight's induction.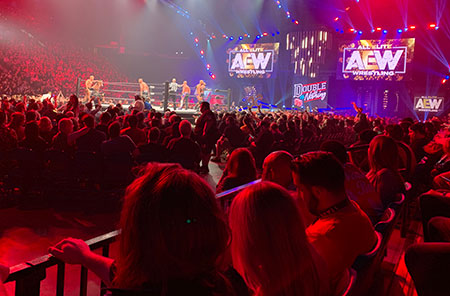 No no – I am not inducting AEW's first ever PPV. No way, no how. It may have been the best show I have ever been to in my entire life.
Actually scratch that – it WAS the best show I have ever been to in my entire life. And I've been a wrestling fan for over thirty-five years. There were a ton of reasons why I loved this show – the matches were awesome, the pacing was great, there were no stupid never-ending interview segments, and every match felt different. It didn't hurt I was also sitting right next to Stu Saks from Pro Wrestling Illustrated (!!!!), which was mighty cool as well.
But more than anything, it was due to a completely rabid fan base, one who was going insane at nearly everything that was presented. And I mean EVERYTHING. When Awesome Kong was announced as a surprise, two people in the row in front of me literally jumped in the air and started hugging each other.
I mean, I like Kong just fine, but seriously fondling your neighbor because she showed up was kinda wacky and weird.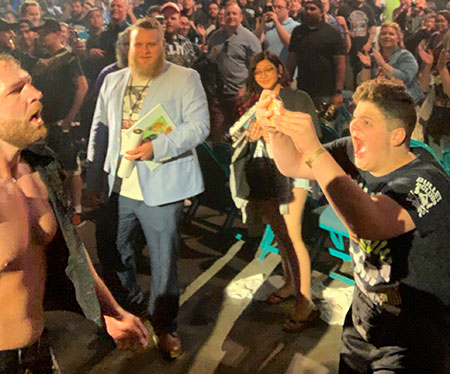 And look at that guy's face! That is pure unadulterated joy (and yes, this was Moxley walking right in front of my seats – thank you, Conrad!). Everyone in the building seemed to have the same reaction throughout the night. It was like, after years of slugging it out to keep our fandom, someone listened and gave us something that was at least in the ball park of what we wanted.
I think what we wanted the most was an alternative. We wanted a real number two promotion that could provide us something different, something we could enjoy. Believe me – AEW has a HUGE uphill battle ahead of them and their shows haven't been perfect. I have no idea if they will make it long-term. But a company that looks to have even the slimmest of chances of competing with Vince is something I know I can get behind.
Especially when the last one that had a shot became an utter laughingstock.
Seriously, how do we not have more TNA inductions on this here site?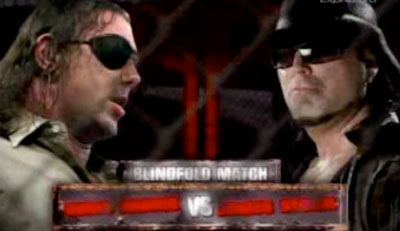 Especially when they presented utter nonsense such as a blindfold cage match.
Let me repeat that – a BLINDFOLD CAGE MATCH.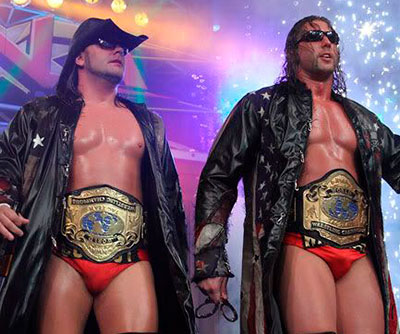 The backstory: James Storm and Chris Harris were known as America's Most Wanted, and were one of the most popular teams in TNA history. They won the company's tag belts multiple times. This despite the fact that Storm apparently couldn't be bothered to wear the strap right side up. I don't remember, that may have been part of the gimmick – he was a beer swilling cowboy after all. Maybe he was just drunk.
After dominating the division for years, the decision was made to split them up, and as usually happens, it didn't end with a handshake and a pat on the back. Instead, Storm took a beer bottle and smashed it into Harris' eyeball, nearly blinding his old friend.
How did TNA promote such a dastardly act?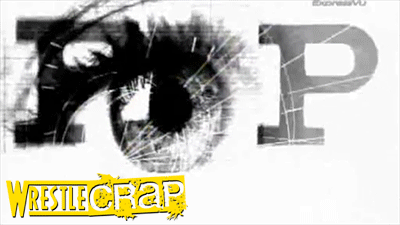 With a video featuring an eye chart, of course! If there's one thing I've learned in all these years of watching wrestling, it's that nothing spurs you to exact revenge like the inability to read line four at the optometrist.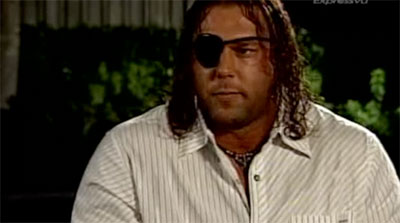 Prior to the match, Harris explains to us in the most monotone manner possible that his vision is very impaired, and that he could lose it all. He does it in such a manner that makes me more concerned he's going to fall asleep than never see again.
Regardless, there's only one way this rivalry can be solved: by climbing inside a steel cage for battle.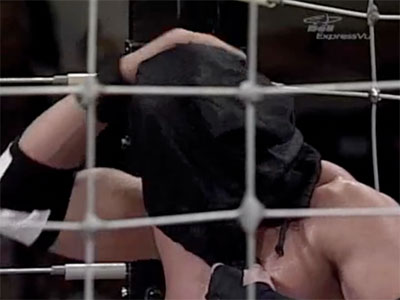 And then putting on masks so you can't see each other and are thus unable to battle.

Ah TNA…when are you going to finally die so Bryan and I can write that book about you?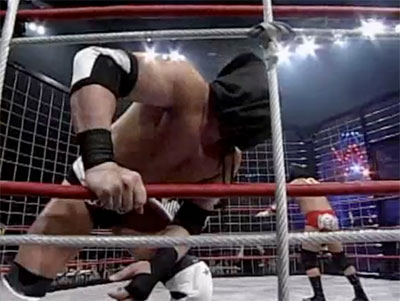 So the match starts and the stupidity continues, with Mike Tenay explaining that due to Harris' visual impairment, commissioner Jim Cornette would not allow a match between the two.
Let me get this straight: Storm wearing an eye patch and wrestling wasn't safe. But putting a hood over his head so he cannot see at all, then placing him inside a cage, is completely fine. I will never understand OSHA compliance.
The match is not even 90 seconds old before we get our first "FIRE RUSSO" chant this evening, as well as a loud "BORING" to boot. These would be followed up by a "We Want Wrestling!" plea from the crowd.
Like seriously, you folks bought tickets to a TNA event! You ask too much!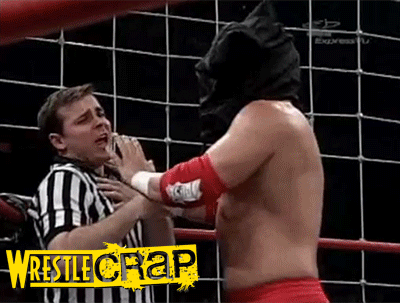 So this would be every blindfold match you ever saw, with the standard heel attacks referee because he can't tell the difference between a 5'6″ official and his 6'5″ opponent. What's different in this instance is that the ref spins Storm around after he frees himself from Storm's grasp. Have to assume that he saw the blindfold and thought Storm was going to hit a piñata.
No, that can't be. Even the worst child's birthday party I ever went to was better than a night of TNA action.
The fine production of the company soon rears its ugly head as well, with the masks literally falling off the guys. Storm does his best to play up that he's cheating, but throughout the encounter both guys see their hoods fall off. So whatever psychology we could possibly pretend this match has is completely gone now as well.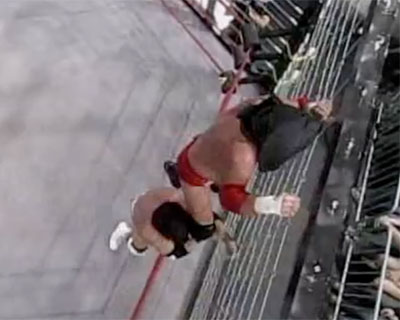 The stupidity scale nearly pops a coil as we get our next spot, wherein Storm starts climbing the cage.
Climbing the cage.
In a blindfold match.
I feel like I am getting dumber just by watching this.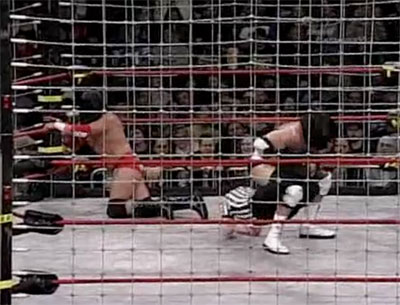 And now it's Harris' turn to attack the ref, putting him in the sharpshooter. Or Scorpion death lock if you are a bigger fan of Sting than Bret. Sting also used it earlier than the Hitman if I recall. Of course, it was invented by Riki Choshu prior to either guy in the US using it so we should probably bring that to your attention. Ron Garvin used it as well, but pretty sure no one remembers that.
Can you tell I am avoiding talking about this match?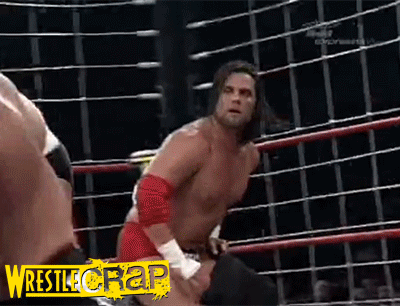 This fiasco mercifully comes to an end when Storm simply removes his mask, flips Harris off, then super kicks him into oblivion. Hopefully he didn't kick him in the eye, or it'll be back to vision center for poor Chris Harris.
So yeah. This was your number two promotion to WWE for the past decade and a half. Is there any question why folks are so excited for AEW? Gotta believe they won't do something as idiotic as a blindfold cage match.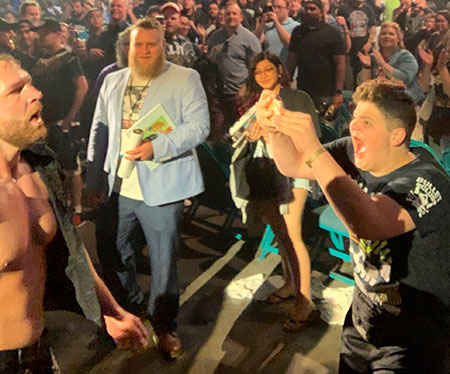 No wonder this guy has the o-face!
---
And thus ends another WrestleCrap induction! We hope you enjoyed it and it made you laugh once or twice. If so, we urge you to donate to our Patreon. Not only will you get exclusive goodies such as patron-only inductions and RD & Blade Shows, you will be helping to keep WrestleCrap alive for years to come. Get to clickin and keep on crappin'!