Another year come and gone…and is often the case, it was chock full of some of the worst pro wrestling has ever seen! The real question, though is this: what was the very worst of the very worst?
What deserves the legendary WrestleCrap Gooker Award?
Using the same creeky old poll mechanism we've used since 2003(!!!!!), we present to you the following choices. Some made us laugh, some made us angry….but they all had us shaking our heads. I can say without hyperbole that for me personally, RD Reynolds, creator of WrestleCrap.com, it was the toughest decision I've ever had to make in casting my own vote.
So here we go!
Remember…you only get ONE vote, so make it a good horrible one!
---
Alexa, Lily, and the Fiend
It seems as if The Fiend is a mainstay in Gooker voting, so it is little surprise he's here this year as well. Strangely, though, he almost didn't make the cut. After all, our friendly Fiend was MIA for most of the year…but don't you fret! WWE was quick to give us Alexa Bliss, dressed up in ghoul make up and carrying around a dumb doll, to ensure Fiend-style Gooker nominees would be with us for yet another year!
---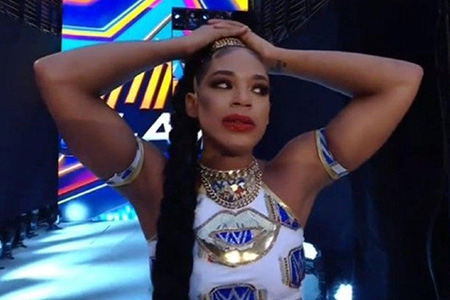 Bianca vs. Becky – SummerSlam
One of the most pressing concerns in recent years for WWE has been the lack of new stars. For how long can the company continue to give fans the same old, same old? Amazingly, they appeared to have a true blue bonafide star on the rise in one Bianca Belair, who was heading to SummerSlam to take on Sasha Banks in what was sure to be an awesome match. Instead, Sasha was out of the match, and the WWE's most popular woman in years, Becky Lynch, was inserted into the match. She proceeded to take down upstart Bianca in under a minute, then turned heel in a move no one wanted to see. Oops.
---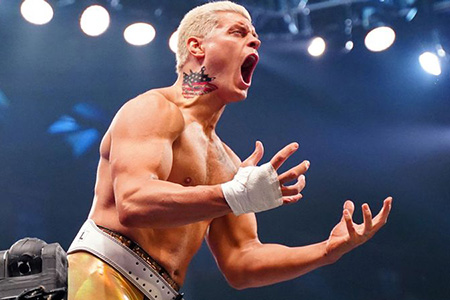 Cody Rhodes: Babyface?
Cody Rhodes is an enigma wrapped in a riddle wrapped in a hideous neck tattoo. Despite the fact that fans everywhere were booing him consistently throughout the year, he refused to turn heel, instead wrapping himself in the American flag and doing every old school babyface tactic imaginable to get the crowd to return to his side. The debut of his new reality show, Rhodes to the Top, didn't help the cause either, as both he and wife Brandi came off as completely unlikable in every conceivable manner.
---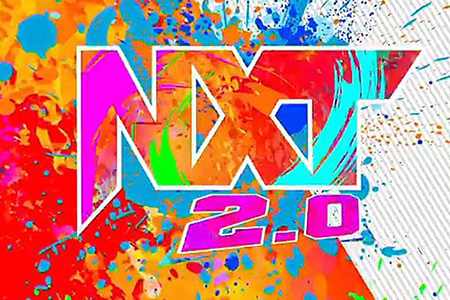 NXT 2.0
Some folks may not want to believe this, but NXT was moved to Wednesday nights on the USA Network originally to attempt to kill off AEW prior to it being able to gain a following. When it failed to do so, the company decided to take the developmental brand in an entirely new direction. Gone were long-time NXT mainstays who put on incredible matches, and in their place were green talent who were nowhere on their level. OH! And did we mention that it was designed to be hip and cool and fresh? No better way to appeal to the youngsters out there than giving them what the elderly crew of Vince McMahon and Bruce Prichard perceive as hip!
---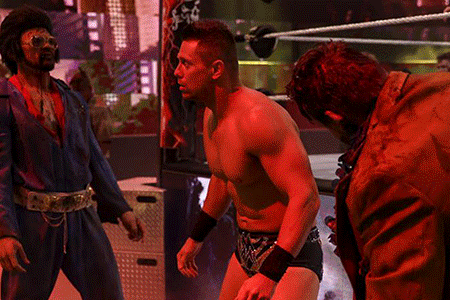 WWE Promotes Movies with Zombies and Eggs
Cross-promotion of movies is nothing new in wrestling. Older Crappers may recall times when films such as Robocop, Child's Play, and End of Days were given lots of air time by both WCW and the WWF. Flash forward and in 2021 we got such antics again, only this time with zombies and golden eggs! And just like in the bad old days, this cross-promotion sure did suck!
---
Queen's Crown Tournament
Once upon a time not so many years ago, a young Stephanie McMahon revolutionized wrestling by presenting women in WWE. Pretty sure that never happened prior to her deciding to liberate the "fairer sex." While it's easy to mock Steph and the company for such hyperbolic nonsense, there's no denying the great matches that era provided us, with women like Becky Lynch, Sasha Banks, Bayley, Charlotte, and others getting time to put on fantastic contests. That wasn't the case in 2021's Queen's Crown tournament, when the matches all kinda stunk and no bout other than the final lasted longer than 180 seconds.
---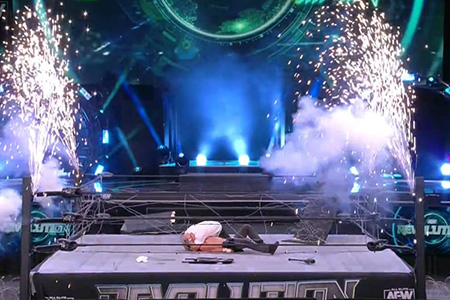 The (Non) Exploding Barbed Wire Death Match
Here comes the boom! Well, not really. AEW's much hyped and ballyhooed Exploding Barbed Wire Death Match featured Kenny Omega and Jon Moxley going at it with the AEW title on the line. The match itself was pretty good (I mean, if you're into that kinda thing), but the ending? See, the entire ring was to explode. It's right in THE NAME OF THE MATCH FOR CRYING OUTLOUD. That didn't happen – instead, some sparklers went off on the ring posts as Eddie Kingston covered his pal Mox. Maybe he was shielding him from the laughs of the crowd?
---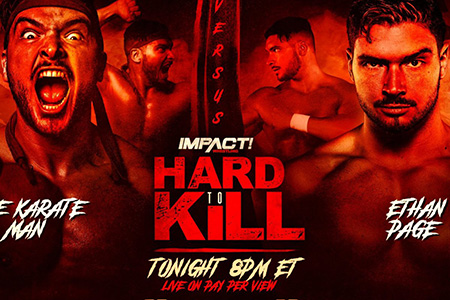 Ethan Page vs. Karate Man
They say that your toughest opponent in life is often yourself. Such as the case for one Ethan Page in his final match as he took on Karate Man, portrayed by Page himself. We know cinematic matches were all the rage during the pandemic era, and while some were good, others were…well, not so much. The fact this one wound up on the Gooker nominee list should give you an idea where this one landed.
---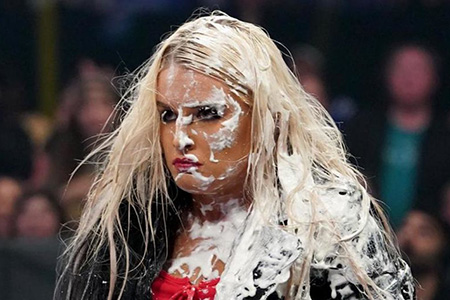 Toni Storm: Pie Today, Gone Tomorrow
If there was ever a 'can't miss' prospect, it had to be Toni Storm. She checked all the boxes: good wrestler, good talker, looks great. Leave it to WWE to bring her up from NXT and have her do…well, absolutely nothing. They just sat her in catering for months on end, before finally giving her a shot to work a brief feud with Charlotte. The feud ended with Toni getting hit in the face with pies repeatedly (yes, like a clown) and then saying, "Screw this, I quit" and paying for a flight out of town. Amazingly true story.
---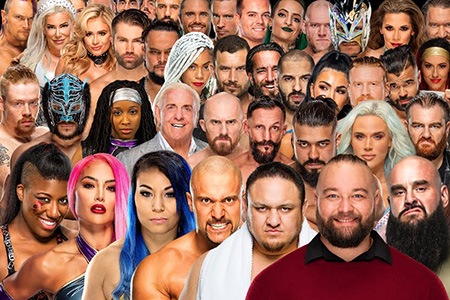 WWE Firings During Record Profits
While many fans bemoan WWE's lack of creativity and seemingly never-ending repetitive shows, one thing cannot be denied: they are make more money than ever in the history of the company, and it's not even close. Despite these massive profits, the company continued to make talent cuts over and over throughout the year, with over 60 in-ring performers being shown the door. Best of all, when said talent was let go, they were told it was due to "budget cuts". Guess that helps fill those canvas sacks with dollar signs on them outside Vince's door!
---
And there you have it! Pick out your worst of the worst below!
Please note – voting ends on Friday, January 14, with the winner being posted on the site Thursday, January 20!
(ALSO NOTE: we have heard of some folks having issues with the poll below. We are working to correct this. In the meantime, we suggest you login using Firefox, Edge, or Safari for best results. Thanks!)
What was the worst of the worst in 2021?
AEW Lack of Boom (5%, 139 Votes)
Alexa, Lily, and the Fiend (5%, 144 Votes)
Bianca vs. Becky (1%, 34 Votes)
Cody Rhodes: BABYFACE (3%, 79 Votes)
Ethan Page vs. Karate Man (1%, 17 Votes)
NXT 2.0 (50%, 1,452 Votes)
Queen's Crown (1%, 34 Votes)
Toni Storm: Pie Today, Gone Tomorrow (1%, 26 Votes)
WWE Mass Firings (23%, 648 Votes)
WWE Movie Tie Ins (11%, 304 Votes)
Total Voters: 2,877
Loading ...