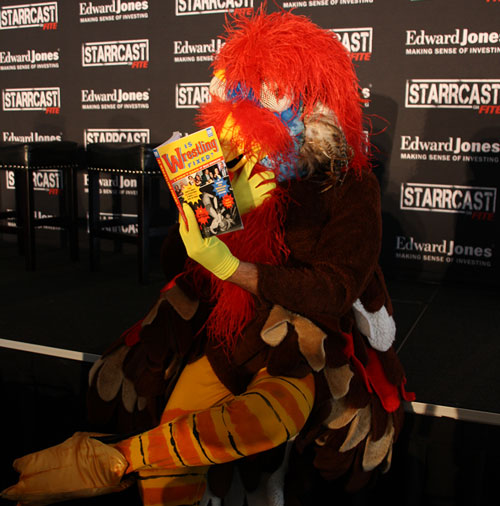 Another crappy twelve months of wrestling are in the books! Ok, ok, so there was a LOT of good stuff in 2018, we admit. But you cannot deny some real stinkaroos snuck into rings as well. The question remains though – what was the very worst of the very worst?
That's what the Gooker Award is all about.
For the past eighteen years (!!!), WrestleCrap.com's Gooker Award has been the ultimate stamp of authority on the absolute dirt worst in pro wrestling. And as always, we look to our loyal readers to make the final determination. With that, let us take a look at our nominees!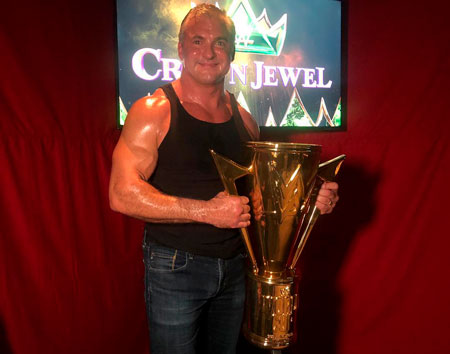 Shane McMahon – The BEST IN THE WORLD
For weeks, fans were told WWE's World Cup would feature the greatest wrestlers in the world, and that the winner of the tournament would be indisputably dubbed "the best in the world." So it should come as no shock that Shane McMahon was the ultimate winner. This despite the fact that he wasn't even in the tournament in the first place! You can't keep those McMahons down!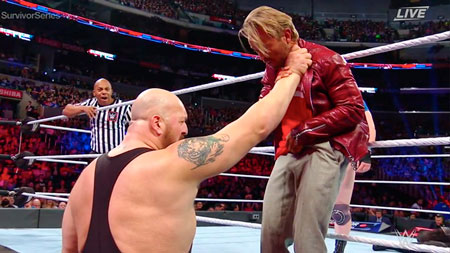 Drake Maverick's Urinary Issues
It's long been said that Vince McMahon loves him some potty humor, and this year's nominees certainly back up that theory. Not only did we have Drake Maverick peeing his pants…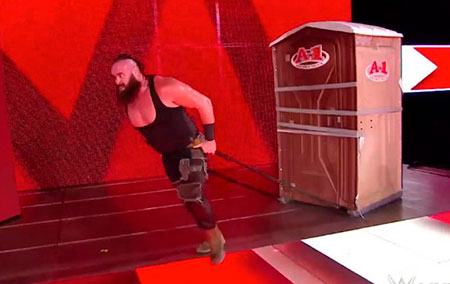 Kevin Owens Porta Potty Problems
…we also go Kevin Owens going for a ride in a porta potty, which caused officials to all hold their noses as they rescued him. Apparently blue paint (????) smells very bad. Who knew?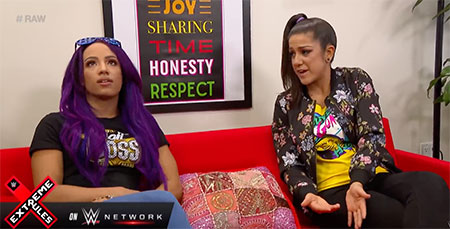 The Never-Ending Sasha-Bayley Saga
If you had told fans just a couple years ago that women would be main eventing WWE television shows and PPVs on a regular basis, I have zero doubt they would have believed you. After all, the ladies in NXT were having incredible matches all the time. Fast forward, and two of those women, Sasha and Bayley, are stuck on Raw in a seemingly unending feud that got dumber by the week. Are they friends? Aren't they friends? WHO CARES???
WWE Crown Jewel
Lots of different ways you could view this as a terrible event, be those political or in-ring. For us, though, the biggest crime had to have been Shawn Michaels coming out of retirement and looking like Poopdeck Pappy. We kid, we kid. Feel free to vote for this one regardless of why you hated it, we'll cover all aspects in the induction if it takes…uh…the crown.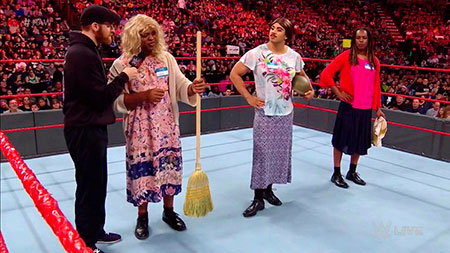 Bobby Lashley's "Sisters"
When Sami Zayn threatened to expose Bobby Lashley on the following week's episode of Raw, stomach-turning dread filled those who remembered "This is Your Life Bayley" and "The Old Day". The worries were justified as Zayn interviewed three men in drag playing Lashley's sisters, all of whom claimed Lashley was horrible in many ways. Not the least of which is he allowed this to hit airwaves without walking out the door.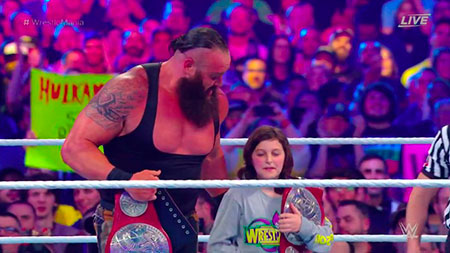 10-Year Old WWE Tag Team Champion Nicholas
Ultimately, it was harmless: big, scary Braun Strowman finds a 10-year-old kid and tells him to just stand there while he annihilates Cesaro and Sheamus for the belts at WrestleMania 34, before vacating them a night later. But when you're six hours deep into WrestleMania, and a mystery partner is promised, you may wanna deliver something bigger than "cutesy and ironic".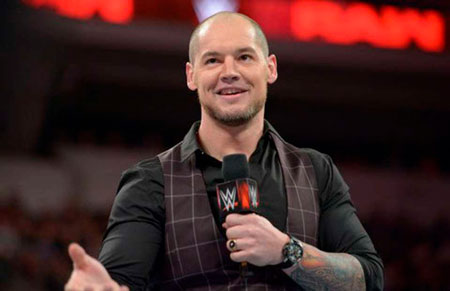 Raw is War Three Hours of Corbin
Between the bald head and the prog-rocker attire, Corbin looks more like Caillou found a gig teaching improv classes than a heel authority figure. His punchable bully-demeanor is fine in doses, but those doses aren't three hours of it every seven days. Seriously, who thought giving this guy that much time was a good idea??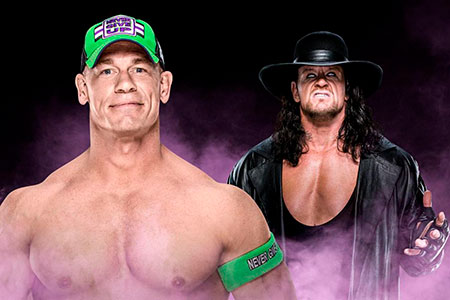 John Cena vs. The Undertaker
It was a match that was over a decade in the making – John Cena going one-on-one with the legendary Undertaker. Better yet, it was on the biggest stage of them all, WrestleMania. What could possibly go wrong? Well, the fact it happened five years too late and lasted less than three minutes would top the list. The very definition of a missed opportunity for sure.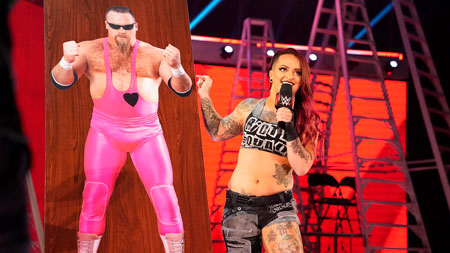 The Exploitation of Jim Neidhart
If there's one thing WWE has proven over the years, it's that they have zero qualms about using the (generally recently) deceased in their storylines. This despite the fact that no one ever seems to want that and it just feels bothersome. Such was the case when The Anvil passed away this year, and they shoehorned him into daughter Natalya's feud with Ruby Riott. Will this join the Exploitation of Eddy Guerrero as another Gooker winner? You make the call!

Yes you make the call…by voting below!
Choose the very worst of the very worst…right now! Voting Ends January 14!