2017 is in the books, and thank goodness for that, as it sure did stink!
Speaking of reeking, let's talk for a moment about the least prestigious award in all of professional wrestling: WrestleCrap's 17th Annual Gooker Award!  Named after the infamous Goobeldy Gooker, this prize goes to the dirt worst storyline, character, or promotional tactic that took place inside or nearby a wrestling ring over the last twelve months.  Best of all, YOU get to determine the "winner"!
Without any further adieu, your nominees are…
---

Bayley – Alexa Bliss Feud
Poor Bayley.  When she was in NXT, she connected with fans in a seemingly organic and very real way, so much so she was viewed as a total can't miss prospect.  Leave it to main roster WWE creative to prove that wrong!  This feud with Alexa Bliss sure didn't help things, as we got a horrendous "This is Your Life" segment in addition to a potential worst match of the year candidate in the form of their kendo stick battle at Extreme Rules.  It's now gotten to the point that fans are openly booing Bayley and wondering when she may turn heel.  As Vince used to say, "Un-Be-Lievable!"
---

Jeremy Borash vs. Josh Matthews Feud
Impact or TNA or Global or whatever it is they are calling themselves this week had something of a banner year in 2017, going from the verge of near death to…well…pretty much the same by the end of the year.  In the middle of it all, they gave us a feud between Josh Matthews and Jeremy Borash, in which the two snapped at each other for two hours straight every single week.  This was done presumably as a way to help their failing company.  On the plus side, it did lead to the return of Scott Steiner…in a match that was completely awful.  All in all, it brought back repressed memories of Michael Cole: heel commentator.  That won a Gooker (which you can read rightchere)…will this do the same?
---

Jinder Mahal: Skinny Jobber to Jacked Up Champion
Not sure you know this, but India is a country with a whole heapin' helpin' of folks – 1.3 billion to be exact!  Actually, that's not exact at all, but I ain't putting up a population counter on here.  Especially not for someone as unremarkable as former jobber turned WWE champion, Jinder Mahal.  This led to many terrible main events and a lot of bored and confused fans.  But hey, the logic was sound, right?  Push a guy born in India to the top to get all those folks on board with WWE!
Wait, he was born in Calgary, Alberta Canada?  Shhh, don't tell anyone!
---

Bray Wyatt – Randy Orton Feud
To be fair to the other candidates, we should note we already declared the House of Horrors match between Bray Wyatt and Randy Orton as the 2017 Gooker Award winner several months back, right after it originally happened.  Looking at this list, we're not so sure it deserves that "honor."  I mean seriously, who could forget WrestleMania when we got maggots projected on the mat?  Or Randy burning down Bray's dilapidated shed?  So here's what we're going to do – we're putting the entire feud in as its own entry!  Surely no feud could be worse than this, right?
---

Bray Wyatt – Finn Balor Feud
It can if Bray Wyatt is involved!  Moving away from Randy Orton, Bray jumped into a series with Finn Balor.  It almost felt as though WWE was challenged to come up with something dumber than worms crawling on a ring and torched barns.  And wouldn't you know it, they did, as after years of being an off-screen character, we finally were able to bear witness to the long awaited unveiling of Sister Abigail!
It wound up being being Bray in a wig.
If that's not Gooker worthy, we're not sure what is!
---

Lavar Ball on Raw
Not content to just pollute ESPN and social media with his self-promotion and his eye-rolling claims, Lavar Ball brought sons Lonzo and LaMelo to Monday Night RAW, all but assuring a train wreck. Indeed, after the elder Ball's ring entry struggles, his refusal to follow a script, and LaMelo's shouts of a rather bad word, the family was asked to leave the building. If only WWE had done that much sooner.
---

Emmalina – She's On Her Way!  Wait, No, She's Gone Again
Much like Bayley, Emma was a very beloved performer in NXT, with fans doing her goofy dance and having fun all the way.  For whatever reason, she never clicked on the main roster, and was sent away for several months.  During that time, she flooded her Instagram with various photos showing herself to be an absolute smokeshow.  That got folks' attention, and thus it was decided that she would re-debut as Emmalina, with a total makeover to better emulate what was getting her over online.  After being teased for months, Emmalina finally made her debut…and said she was just going to be Emma. Seventeen weeks, all of which led to absolutely nothing.  Aren't you glad you invested your time in that?
---

Old Mickie James
Sexually-ambiguous stalking of Trish Stratus aside, what was Mickie James' best WWE angle? Has she even had another good one? By default, her sterile existence as "smiling babyface Diva #6,385" from 2006 to 2010 surely trumps "Piggy James", and certainly, "Hey Mickie, you're old!" At 38, Mickie is barely older than Asuka. Surprising that WWE didn't inflate the number and try to claim that Mickie is 54, "for entertainment purposes." They do that.
---

Dolph Ziggler Rips off Superstar Entrances…then Vanishes
Dolph Ziggler is a guy who seemingly could never quite reach that tippy top level in WWE no matter what he did, so in 2017 he tried something completely new old.  Week after week, he would come out and imitate the entrances of various WWE superstars of the past, including but not limited to the Ultimate Warrior pictured above.  After doing this for several weeks, he just kinda stopped and nothing ever came of it.  Maybe he should have imitated Emmalina too?
---

Jason Jordan – Kurt Angle's Son
The idea we think here was to give a boost to Jason Jordan via a connection to the legendary Kurt Angle.  That's not a terrible idea in theory – have Kurt come out, state that he has been watching this young man and wants to be his mentor, possibly even be his manager.   Instead, we got a long build of Kurt Angle having a secret, Corey Graves knowing what that secret was, and the finally the big reveal of Jordan as Kurt's kid.  Which no one believed for a second, and immediately booed out of the building.
Booed out of the building?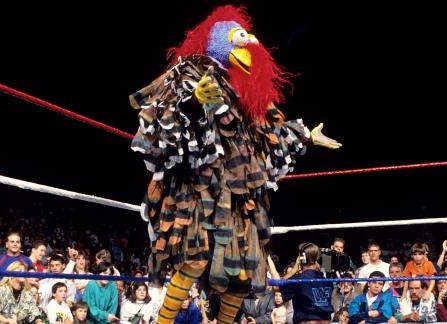 That sounds familiar!
---
And there you have it, kids – the worst stuff to hit pro wrestling airwaves in…well…the last twelve months.  Now you face a nearly impossible task: choosing which is the very worst of the very worst.
Which leads to us facing the even more impossible task of writing about it.
Voting ends Friday, January 12, so get to voting, and we'll get to inducting it on Thursday, January 18!