Note from RD: Well, this is a first.
What started out as a landslide win for the Bella vs. Bella Feud somehow turned into a second place finish for WWE's Lack of Brass Rings. A bit of investigation reveals that SHENANIGANS WERE AFOOT!
While we cannot lock down how much ballot stuffing was done for those in favor of brass rings, we can confirm that some was done. What so ever shall we do in such a situation?
After consulting with the WrestleCrap Board of Directors (read: RD sitting on the can thinking about it), a decision has been made! For the first time in the history of the Gooker Award, we are christening co-winners. Or is it co-losers? Regardless, both will be inducted as Gooker Award Winners. The prestigious event will take place Thursday night, January 29…so check back then and YOU can make your own call as to which was truly the worst of the worst!!
---
The calendar has flipped to January…you know what that means: GOOKER TIME! It's your chance to vote for the very worst of the very worst in pro wrestling, which we dubbed the Gooker Award (in reverence of the legendary Gobbledy Gooker) when we started the site in 2000.
Yes, we've been around that long. And I'm kinda questioning how many years we've seen worse stuff than we have the last 12 months.
So without any further adieu, the nominees!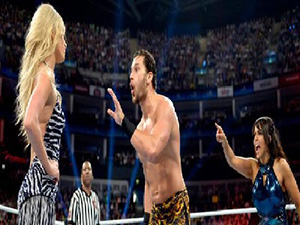 Summer Rae-Layla-Fandango Love Triangle
Hey, remember back when Fandango was THE hot act in the company for, oh, three weeks? When fans sang his theme song…one that has NO WORDS? Those days being long gone, the plan was to have two hot women feud over him. WWE once again showed their ability to make everyone not care about said honeys and also kill an act folks actually, you know, liked.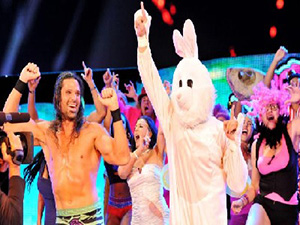 Never-Ending Bunny vs. Adam Rose Feud
We have a rule around these parts that we don't induct ongoing angles, because they may get good. Just typing that under "Never-Ending Bunny vs. Adam Rose Feud" makes me feel like a fool. Anyway, as this feud is seemingly never going to end, may as well throw it up for the award this year. Just don't be shocked if you see it again as a nominee in 12 months.


Return of the Raw Guest Hosts
mWhile Justin had these as separate items in his countdown of the worst of the worst, I'm lumping them together. While Raw guests hosts have traditionally been horrible, there have been good ones here and there. Bob Barker, anyone? No worries, not the case in 2014. We had stuff like Kathie Lee Gifford and Grumpy the Cat.
See what I did there? I channeled my inner Michael Cole!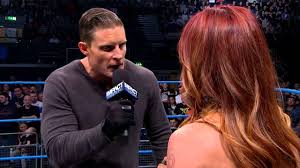 Samuel Shaw: STALKER
Ok, try to follow me here: Samuel Shaw is a complete weirdo that somehow gets a date with Christy Hemme. We learn that he is obsessed with her, as we get footage of him with a shrine built up to her…which she sees. However, this doesn't cause her to run to the cops. Eventually, the madness would include his mom, also a red head, also named Christy. OH! And a SUICIDE attempt, because that's always good fun!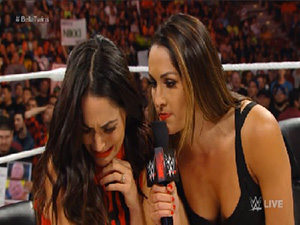 Bella vs. Bella
Nikki and Brie are sisters who love each other…except when they don't. Or do they? Or maybe they don't! Ugh, this storyline. Not only did we get to hear Nikki tell us what a horrible sister Brie was growing up, but scintillating dialogue such as "I wish you'd died in the womb!" Because you know everyone talks like that. Throw in a Jerry Springer intervention, and you've got a potential Gooker winner for sure.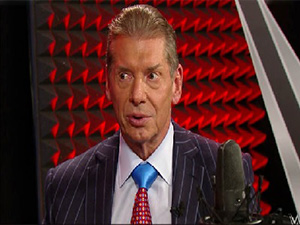 Brass Rings…or the Lack Thereof
While everyone thought the focal point of Vince showing up to be interviewed on Steve Austin's podcast would be CM Punk, it wound up being talk of brass rings and how his pathetic millennial crew didn't dare to reach out and grab them. This despite the fact WWE continually buries any talent that dares to get over on their own. The less things change…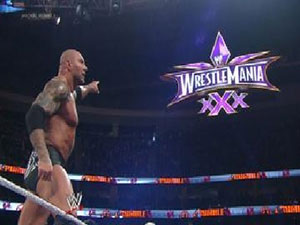 Royal Rumble 2014 Booking
Speaking of brass rings and other such nonsense, one need look only to the booking of the 2014 Royal Rumble, wherein appointed golden boy Dave Batista was booed out of the building as fans chanted over and over for Daniel Bryan. In the interest of fairness, the company learned its lesson…eventually.
Anyone think the same will happen again this year?
The Menagerie
Impact Wrestling presents THE CLOWN SHOW!!!! Not figuratively, we're talking literally here. I will admit that I'd never heard this origin story before, with a guy going back to wrestling to support his carnie family whose dilapidated arcade had flooded. So they had that going for them. Soon we had not only Knux, but Crazy Steve, Rob Terry under a mask, and dudes on stilts! I almost feel as though they're somehow the favorites, since everyone knows we'll add a bunch of shots of Rebel to increase page views.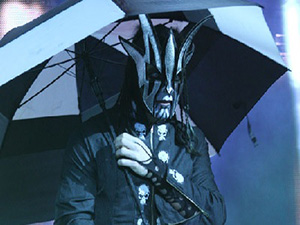 Willow
Spinning umbrellas and nonsensical promos were the name of the game as Jeff Hardy attempted a very ill-advised self-reboot. We should also note that a lot of these promos were done without his lips moving…that's right, we could now READ HIS MIND. Sadly, he rarely had anything interesting to say.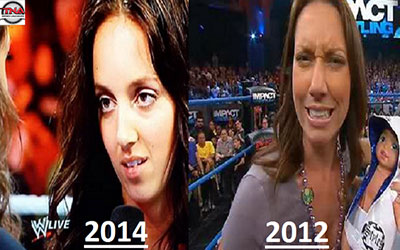 The Return of Claire Lynch. Kinda.
Jim Cornette had a rule back in the day: you can reuse anything in pro wrestling after seven years. RD Reynolds also has a rule: you can reuse anything in pro wrestling if it doesn't suck. WWE violated both by creating the character of Megan Miller, Daniel Bryan's physical therapist, with whom Bryan cheated on his wife. Except, of course, he didn't and it was all a lie. Sound familiar? Yep, TNA's Claire Lynch had returned!
Serious question: if this wins, does that make her a two time winner?
---
So there you have it! A whole slew of horrible crap. What's the worst?
YOU MAKE THE CALL!
---
What was the Worst of the Worst in 2014?
Bella vs. Bella (26%, 869 Votes)
Brass Rings...or the Lack Thereof (28%, 934 Votes)
Jeff Hardy IS Willow! (6%, 187 Votes)
Never-Ending Bunny vs. Adam Rose Feud (6%, 189 Votes)
Return of the Raw Guest Hosts (5%, 161 Votes)
Royal Rumble 2014 Booking (21%, 698 Votes)
Samuel Shaw: Stalker (3%, 87 Votes)
Summer Rae-Layla-Fandango Love Triangle (1%, 22 Votes)
The Menagerie (1%, 38 Votes)
The Return of Claire Lynch. Kinda. Sorta. (4%, 120 Votes)
Total Voters: 3,305
Loading ...