Another year of horrible pro wrestling has passed, which means but one thing – I'm an idiot for still watching it.
Oh wait, sorry.  I mean, it's time for the 2016 Gooker Award voting!
That's right, it's your chance to pick the very worst of the very worst by casting your vote and giving those involved the 'honor' of taking home the coveted prize.  Without any further adieu, your nominees!
---

WrestleMania 32
This has to be a first, right?  Has a Mania EVER been up for a Gooker?  Make no mistake, this one is certainly deserving, going an interminable six hours (!!!!) from the first prelim to the end of the main event.  Oh, and did we mention that the Undertaker continued his legendary Mania run versus…SHANE MCMAHON?!!!  Because yeah, that happened too.
---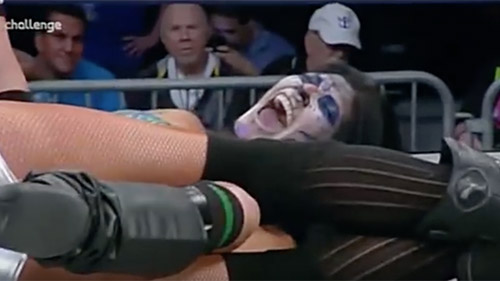 Rebel vs. Shelly Martinez
We've long been huge fans of Shelly Martinez (aka the BNV) dating back to her days in WWE ECW when she hung out with a vampire named Kevin.  And Rebel?  She had our hearts when she attempted to win back a carnival while wearing THOSE SHORTS.  Put these two together and it had to be great, right?  Well, no, not really.  In fact, it was one of the worst matches I've ever seen.  Is it Gooker worthy?  You make the call!
---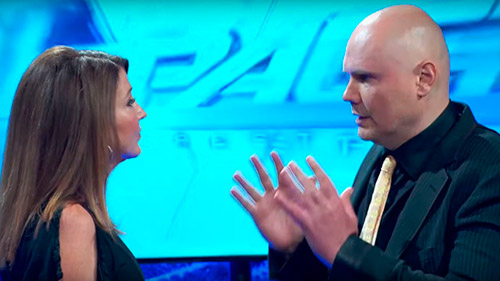 All Things TNA
Speaking of TNA, why don't we just lump as much of this mess of a company as we can into an entry?  Things got so bad this year that I thought for sure I was going to have to start writing The Death of TNA, as they shorted wrestlers on money, held disastrous shows in front of ever dwindling crowds, and somehow became even more of a laughing stock than they'd ever been before.  And I wasn't even sure how that was possible!  Somehow though Dixie pulled it out.  She always does.
---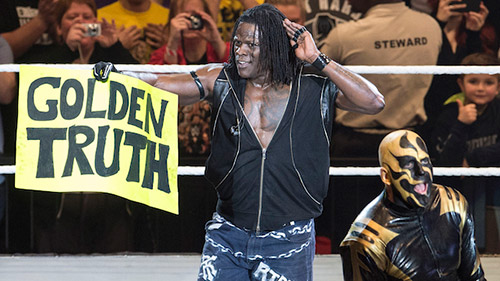 Golden Truth
Here's some truth – your comedy antics are horrible.  Yet we got them seemingly nonstop for the better part of a year!  Thrill to Goldust as a waiter!  Guffaw to Truth as a pizza delivery boy!  Vote for them both to win the Gooker!
---

The Wyatt Compound Match
I know there was a lot of concern that somehow the antics of Broken Matt Hardy was going to wind up as a nominee for the Gooker, specifically The Final Deletion.  Come on, guys, as if.  Especially when I can put this third rate knock-off up instead!  To anyone begging for Matt & Jeff to come back so we can see their absurd antics continue in WWE, I warn you – this horrific match is what we'd get instead.  And it is truly Gooker worthy.
---

Global Force GOLD!
People once mocked me for having the temerity to induct Double J, the original heel country music persona of Jeff Jarrett.  Would anyone cry if I were to induct him for attempting to garner bucks selling gold in some flim-flam pyramid scheme?  Maybe it would actually help the poor guy get Global Force Wrestling off the ground.  It's coming, kids!  Really, believe us!  It will launch about the same time that Parts Unknown Yearbook will!
---

The Shining Stars
How on earth could things get worse if you are a pair of wrestling matadors?  Witness the Shining Stars, a one-note joke wherein two guys from Puerto Rico attempt to sell time shares.  And literally do nothing else of note.  When Chavo Guerrero: Amway Salesman has more depth than your character, you are truly Gookertastic!
---

New Day vs. Gallows and Anderson
Another never-ending feud on a show that has a million of them, The New Day vs. Luke Gallows and Karl Anderson featured the extra bonus of a weeks-long subplot involving Big E Langston's testicles.  Really.  That's what is supposedly in the jar above.  Need I say anything else to justify this being on the list?
---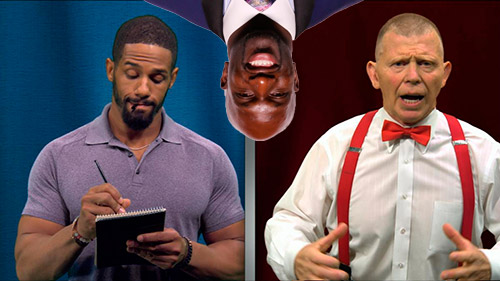 Make Darren Young Great Again – Have Him Feud with Titus O'Neil Forever
The easy joke here is to simply ask "How do we make Darren Young great AGAIN when he was never great to begin with?"  See, that's why you're here – to read stupid jokes like that.  Also to vote for this dumb feud wherein Bob Backlund would show up at random to help Darren in some way that was never really explained.  And to have him feud with his former partner Titus O'Neil in matches that absolutely stunk to high heaven.  Despite that fact, we got them over and over and over and over and over and over and over again.  I think I'm detecting a trend.
---
Enzo's Sensitivity Training
Remember when Daniel Bryan had to go to Anger Management Training?  And it featured the great Dr. Shelby and it was…kinda…funny I guess?  Well, take any of the comedy that was in there, strip it out, and then take one of your hottest new acts and make him look like a certified GOOF.  Egads, that was a horrible joke.  Maybe I should be writing for Raw these days.  Couldn't be any worse than this series of skits was.
---
And there you have it.  The ten worst items in pro wrestling in 2016, and it is up to YOU to decide who wins the grand prize.  But hurry – voting ends January 14!  We will then post the official induction on January 26. Whaddya waiting for?  Get to voting!
---