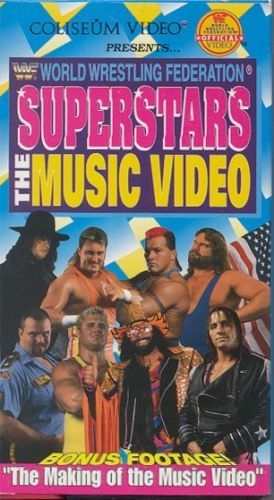 We've covered WrestleMania: The Album and its music videos endlessly over the years here on WrestleCrap, and R.D has inducted the contents of this video already, but I just had to show you the cover to this, the "WWF Superstars: The Music Video" VHS tape.
The music videos include, WrestleMania, Summerslam Jam, USA Hacksaw Jim Duggan, Speaking from the Heart Macho Man Randy Savage. Plus exclusive behind the scenes footage the making of the music video.
Why is this not available as a bonus feature on something? Get with it, WWE!
P.S- TATANKA (BUFFALO!).
(I'm legally obligated to do that every time we mention the Wrestlemania album).
https://www.youtube.com/watch?v=RSbyk0VReyo