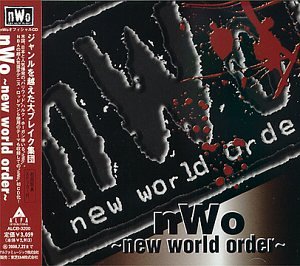 In 1999 WCW released an NWO CD in Japan.
Here's the track list directly copied from Amazon:
1. NWO Original Theme Song
2. Bite Me! (Ease "E")
3. "K" Dog
4. In Your Face!
5. Hollywood Hogan
6. NWO Wolf Pack
7. NWO Only Way to Go!
8. Buff Daddy
9. Disciple
10. NWO Flash
11. Buzz Kill
12. NWO 4-Life
Yes, that's 12 (!) songs relating to the NWO, including one devoted solely to The Disciple.
How did this album not get a U.S release?
You can buy your copy new or used anywhere from about $20 to $80.
I hope it has the awesome NWO B-Team theme!