Crapper Third String Point Guard writes:
I can't play guitar for the life of me, but even the late Jeff Healey can see that "Heavy Metal" Van Hammer doesn't know crap about playing guitar.

Hey, at least 3 Count sang their own songs!
Between the shots of him obviously not playing the guitar (seriously- I could do a better job pretending to play it!), the hair metal music video cliches, and the artsy-fartsy black and white shots of him riding the motorcycle, I can't help but love how over-the-top and silly this thing is!
David Lee Roth, eat your heart out! AWWW YEAH!
(You get a million bonus points for referencing Jeff Healey).
Who could resist head banging to this song?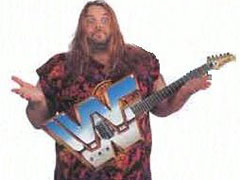 Yeah; I don't know either, dude…