Following the end of his feud with The Big Bossman, Nailz needed something new to do in the WWF (May I ask "Why?"… His initial issue with The Big Bossman was resolved… Why pick a fight with the undead zombie? Oh well.).
The Undertaker and Nailz had a confrontation (for reasons that were never really explained) on WWF Superstars in late October of 1992.
It even made the cover of the January 1993 issue of WWE Magazine (Nailz was gone from the company by the time the magazine hit newsstands):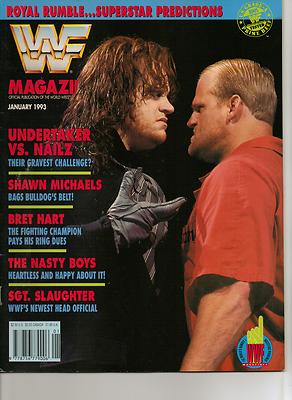 The two had a series of house show matches
All this was supposed to lead to a TV feud and a rumored "Electric Chair" match on a Pay-Per-View but Nailz was fired for (allegedly) assaulting Vince McMahon over pay issues before it could really get started.
"I'm sure those would have been some choketastic matches". -Joe Gagne on the Joe Vs. The World "WWF 1992" Year-In-Review podcast.
No doubt about it…