Today I have an It Came From YouTube/Someone Bought This two-for-one double-dose of strangeness is about a very obscure and weird wrestling movie.
In 1985, Santo Victor Rigatuso produced TV infomercials hawking cheap gold-plated jewelry under the brand name "Santo Gold"
But that's not why we're talking about him today, Crappers!
He also produced, filmed, and starred in a wrestling/Comedy/Science-Fiction (!) movie called "Santo Gold's Blood Circus".
According to the Wikipedia article about the movie, it's described thusly:
The movie revolves around aliens from the planet Zoran, sent to Earth to fight against professional wrestlers from the United States and the Soviet Union, who prove actually to be man-eaters who devour their opponents upon defeating them in a wrestling match. Some of the Earth wrestlers were actual professional wrestlers from the World Wrestling Federation.

One of the key moments in Blood Circus was filmed at the Baltimore Civic Center, where Rigatuso, playing a character called Santo Gold, performs a song before the climactic wrestling match. The song lyrics have nothing to do with the movie; instead, the song promotes Rigatuso's "Santo Gold" jewelry.
Sounds like the kind of B-Movie Blade Braxton could have starred in.
Nah, on second thought; he's way too good for something like this.
I wonder what WWF wrestlers were in this thing (if Wikipedia is to be trusted, that is)?
Unfortuantlly, the movie was never widely released.
According to this informative article on Infomercial Hell the 35mm film negatives were put up for auction in 2011 (UPDATE: They're back up on eBay now!). 
The reserve auction price?
Only $750,000,000!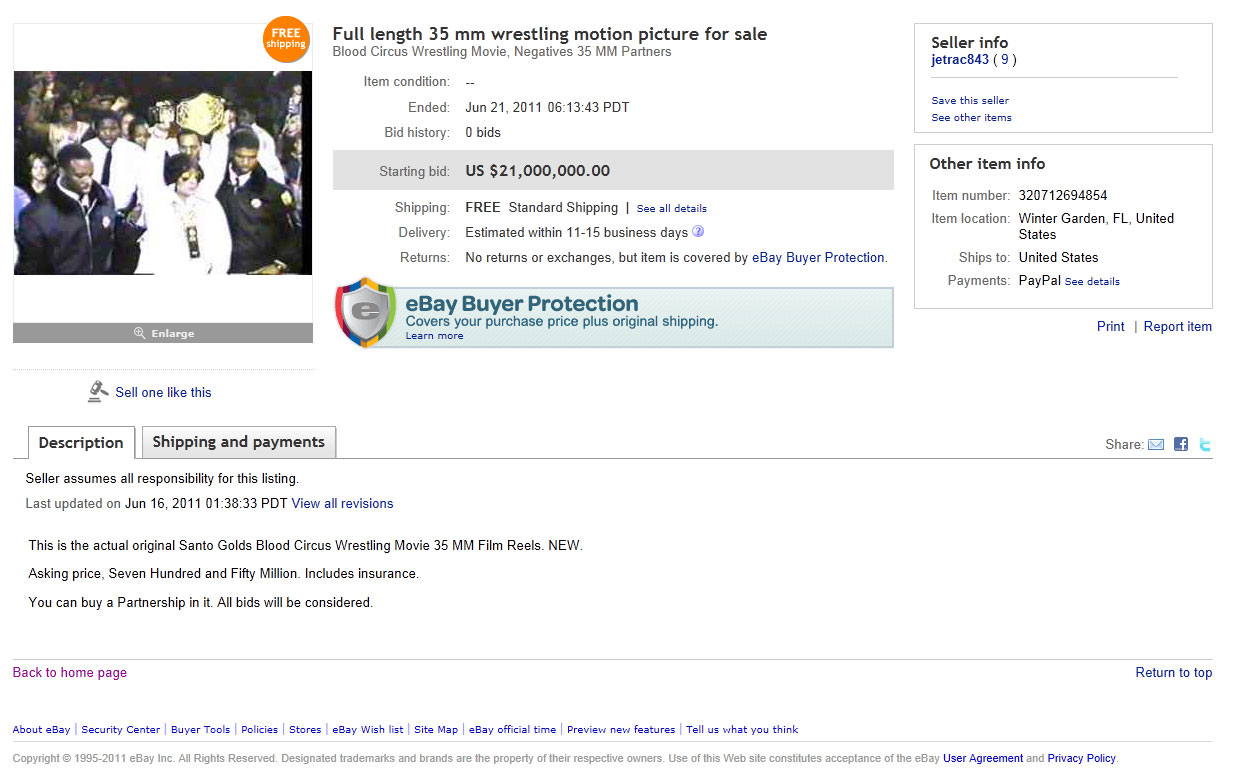 But the starting minimum asking price was a mere $21,000,000!
Sadly; there were no bidders (gee, I wonder why?) and the movie remains clouded in obscurity to this day.
There are many more clips of the movie in the Infomercial Hell review of the Santo Gold infomercial here which is well worth checking out.
It's a shame the movie was never released because I'm sure this is one heck of an entertaining, strange piece of cinematic WrestleCrap.
Here's Blood Circus' IMDB page which tells me that Ox Baker was in it playing a Russian wrestler.
That is unfortunately all the information I could round up about this bizarre little movie.
I just wanted to share it with you Crappers and let you know about what a… unique movie we've all missed out on seeing!
(Thanks to Infomercial Hell for documenting this auction with the above screenshot and writing up the review of the infomercial itself).
Update! Our own ArtODonnel just emailed me with two juicy tidbits of information! He writes:
I found out on the Santo Gold website that you can buy part one of the "Making of" documentary of Blood Circus.

http://www.santogold.com/page3.html

You can also buy a five minute preview of the movie for $3.98. I guess old Santo is still holding out for someone to buy the whole movie for $750 million.

Good news: supposedly in 2011, Santo Gold re-released the movies.

Then again, this website looks like it hasn't been updated since 1997, and there is no info on how to order it, so I don't know how reliable that info is.\

Oops, bad news. The movie still isn't out on DVD. Apparently by "re-release," he means that he's selling the rights to the movie. For 750 million dollars. 
Very interesting! Thanks for the information, Art!