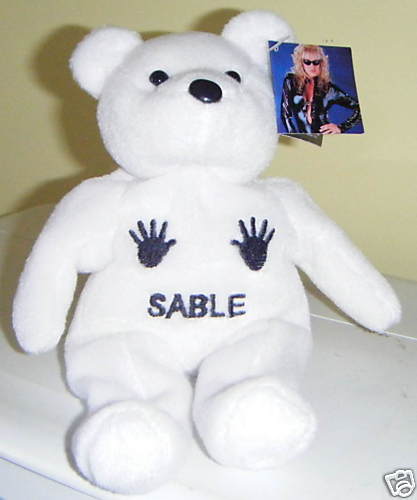 Crapper David Coen sent in this Sable beanie Teddy Bear he found on eBay complete with hantprints on its (thankfully nonexistent) breasts.
You know; for kids!
The bear came out around 1999 and it was part of a series of beanie bears meant to cash in on the hot Beanie Baby craze going on at the time.
It's a reference to the handprint pasties (or maybe it was paint- I don't know or care) Sable wore for a Bikini contest she had with Jaqueline.
This was apparently supposed to be sexy, or extreme, or um… something.
Mostly I just thought it was silly and a waste of airtime.
Anyway; aren't beanie bears marketed towards women.
Aren't mostly men the ones who'd be interested in Sable in the first place?
So who is supposed to be the target demographic for this bear?!
Anyway, this stupid bear reminding me of that segment makes it one big, stinking piece of WrestleCrap for sure!