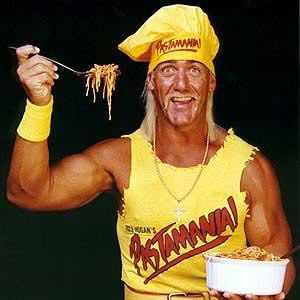 Fellow Crapper Chris Morgan was nice enough to submit this week's "It Came From YouTube" and wrote the following:
Ah, Pastamania! Not just the foremost provider of Hulk Hogan themed pasta dishes, but a muse to us all. It inspired the Hulkster himself to defeat Big Bubba, but it inspired me as well. As a comedy-type person, I was required by law to come up with a joke Twitter account at some point, and I went with a fake Twitter for Pastamania.

Alas, the real Hulk Hogan's Pastamania! was short-lived, for it was too beautiful for this world, and my Twitter was as well. However, in its brief life, I did come up with the idea for a rival restaurant called "King Kong Bundt Cake" for which our lives will always be richer. So, the question I leave you with is this: How have you let Hulk Hogan's Pastamania! inspire you?
Thank you for the great submission, Chris! Always appreciated!
You can check out Chris Morgan's e-Book, his Podcast, and, if you are feeling particularly generous, his Twitter.