YEE-HAW! After a tough day of wrestling with his hound dog Jasper, there's nothing that Hillbilly Jim likes more than a delicious WWF Ice Cream Bar!
Not even the appallingly redneck Hillbilly Jim can keep me from wanting one of these tasty treats.
Look! They even put him on one of the bars!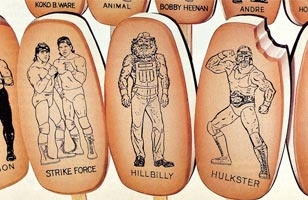 LickAHillbillyOnAHotSummersDay.com!
I bet that URL's taken by a very unique fetish site…