Crapper Paul S. writes:
The days of TNA's Run on Destination America waning. While the TNA/Destination America partnership has failed to make an Impact it did provide one of the funniest moments of Bryan and Vinny Show history in which "Death of WCW" co-author Bryan Alvarez asks Destination America a simple question and gets an unexpected answer.
Cap'n O.G Readmore approves of this suggestion!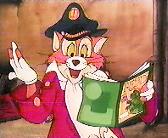 I really do feel bad for Bryan and Vinny having to watch TNA for all these years. That's like some kind of torture!
Why not subscribe to Figure Four Weekly/The Wrestling Observer Online today so you can listen to Bryan and Vinny every week and get all kinds of other goodies, too?!