This is the office of Dave Meltzer of The Wrestling Observer.
I get that some people just work better in chaos and also that he's probably a very busy guy, but when I see that mess I just want to go over there and spend a solid week organizing and tidying-up everything up for him!
How can he even find anything in there?!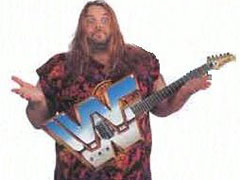 I don't know either, dude… but you know that being neat and clean really ROCKS so put down your guitar and pick up a vacuum!