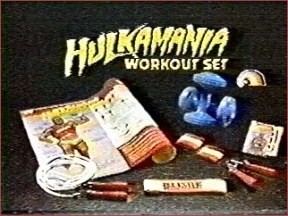 Matt over at X-Entertainment has done an article on the Hulk Hogan "Hulkamania workout set."
And here is a video clip of the commercial itself.
Hey; who better to sell the Hulk Hogan workout set than Paul Orndorff? Erm, wait…
Now that you know what it is and what's in it, I have something really interesting to show you!
This is the audio from the motivational cassette that came with the workout set! Doesn't it make you just want to hit the gym and start pumping iron?