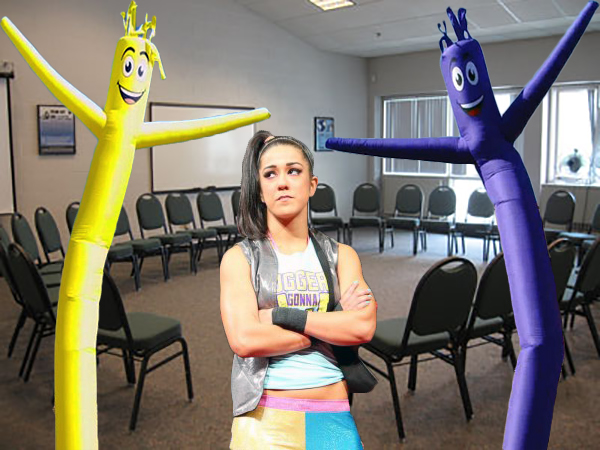 Sioux Falls, SD – Following her vicious attack on former friend Sasha Banks, Bayley was given an intervention by her wacky waving inflatable tube men.
The Tube Men, usually seen during Bayley's entrance to the ring, gathered in Conference Room B of the Denny Sanford Premier Center. Joining the Tube Men was world-renowned therapist Dr. Shelby.
"I'd like to thank you all for inviting me in helping Bayley deal with her anger issues," said Dr. Shelby. "Just by being here, Bayley has made incredible progress. Let's give a round of applause for Bayley."
A light sound of plastic slapping and air rushing filled the room as Bayley frowned in her chair.
"Bayley, your Tube Men came to me because they were concerned after what you did to Sasha last week," explained Dr. Shelby. "We're not here to accuse anyone of anything. We just want you to understand how we feel, know that we love you, and want to help you deal with your anger."
One by one, the Tube Men spoke to Bayley about their feelings. Green Tube Man read a Robert Frost poem. Red Tube Man showed a collage of Bayley and Sasha in happier times. Blue Tube Man did an interpretive flappy dance.
"That was great, everyone," complimented Dr. Shelby. "There is a lot of love in this room right now. Bayley, would you like to say anything?"
Bayley, tears welling in her eyes, slowly rose from her seat. She took a deep breath and unloaded a string of expletives, shocking everyone in the room. Bayley attacked the inflatable Tube Men with a flurry of punches and kicks, leaving them in a twitching heap.
Dr. Shelby stood frozen among the carnage, the sound of his pounding heart drowning out the hissing of the deflating Tube Men. He trembled as Bayley slowly approached, afraid of what she might do.
Bayley spit a piece of plastic that she bit off one of the inflatables in Dr. Shelby's face, smiled and said "Thanks, doc. I feel much better. See you next week!" before skipping out the door.