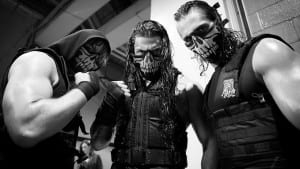 After repeated interference by fans at recent live events, WWE Superstars Roman Reigns, Dean Ambrose, and Seth Rollins have hired former WWE faction The Shield to serve as their personal ringside crowd control.
The pattern of attacks by members of the WWE Universe began at a recent house show when a fan threw a replica Money in the Bank briefcase into the ring, striking Roman Reigns. Later, a fan jumped the guardrail at Monday Night Raw and charged at Dean Ambrose before being tackled by security. WWE Champion Seth Rollins also had a close encounter with a fan who attempted to walk down the ramp with Rollins as he made his ring entrance.
The most recent and highest-profile incident occurred tonight at the Night of Champions pay-per-view, when a fan entered the ring with Reigns and Ambrose before they could introduce their mystery partner.
Backstage, the beleaguered trio of Superstars met behind closed doors and decided enough was enough, agreeing to enlist the services of The Shield, a group first hired by CM Punk.
"When it comes to security in WWE, The Shield is the first name that comes to mind," said Rollins. "If they were good enough for The Authority, they're good enough for us. Wait, were they actually The Authority's paid henchmen or not? Storyline consistency was a little iffy back then."