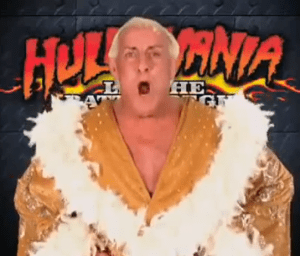 Ever since John Cena began his 15th world title reign after winning the WWE World Heavyweight Championship at June 29th's Money in the Bank pay-per-view, the wrestling world has been abuzz with speculation that The Champ will surpass Ric Flair's record in short order.
Fortunately, traditionalists have no reason to fear Cena breaking Flair's long-standing record of 16 world title reigns. Thanks to some lobbying by The Nature Boy himself, the National Wrestling Alliance has agreed to recognize five previously non-canonical title switches between Flair and various opponents abroad, putting Flair's record at 21 world title reigns and keeping Naitch at the top of the all-time list for the foreseeable future. Besides boosting The Nature Boy's credentials, this decision not only makes Harley Race an eight-time champion, but it also adds NWA world title reigns to the résumés of Jack Veneno, Carlos Colón, Victor Jovica, and Tatsumi Fujinami.
Ric Flair has also agreed to make a series of appearances at NWA cards, a deal which President Bruce Tharpe denies has absolutely anything to do with the recent change in the official title history. Instead, Tharpe chalks up the organization's abrupt about-face to an effort to simply keep with the company's decades-long mission.
"Throughout the NWA's history," said Tharpe, "we have been a worldwide standard-bearer for the sport of wrestling. Unlike other so-called 'world' titles, the NWA title is truly a global championship. It shouldn't matter whether the title changes hands in St. Louis or in San Juan, in Columbus or in Couva. That's in Trinidad, by the way, where Victor Jovica won the world title."
The NWA head continued, "John Cena may be a 15-time 'world' champion, but the titles he has held have only ever been won in North America. The NWA, on the other hand, never needed to make up a phony tournament in Rio de Janeiro to give its title legitimacy. When fans come to a show and see the NWA champion, they know they are looking at the greatest wrestler not just in the United States, but on the entire planet.
"And that man," Tharpe added, "is Rob Conway."
Regardless of their motives for granting Ric Flair's request, the NWA hopes that the now-21-time world champion can act as an on-screen mentor to its current titleholder, whom most wrestling fans remember as a member of La Resistance. These plans, however, have been jeopardized by Flair's failure to appear at his first scheduled commitment and his subsequent refusal to return calls and emails by NWA attorneys.
Efforts by the NWA to find Flair have proven fruitless; Mr. Flair has not been seen in his North Carolina home since renting it out to this man: