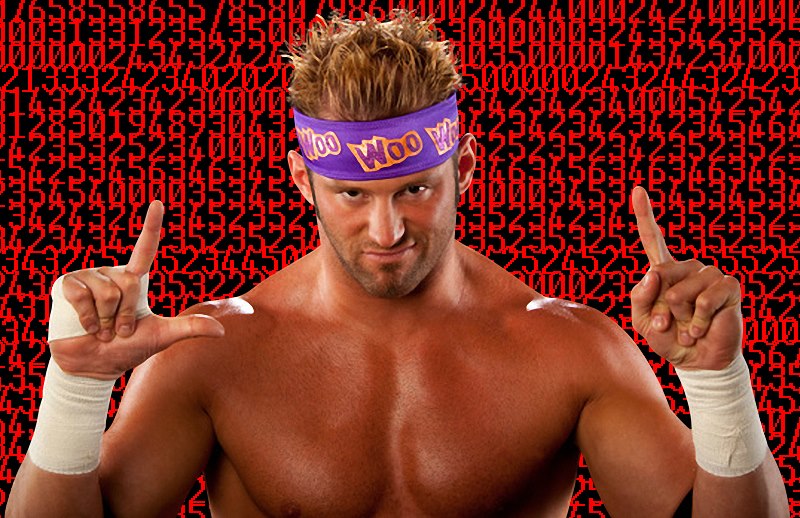 Zack Ryder recently ended his YouTube show, "The Z! True Long Island Story", after one hundred episodes. We sent someone out to interview him on the subject, but when our interviewer came back he had a much more interesting story to tell.
"The interview was going fine, everything was normal, until I mentioned the number '100' and, suddenly, Zack went into this trance and muttered, 'Carlson Center, Fairbanks, Arkansas', for some reason", our interviewer informed us.
"I didn't think much of it at the time," our interviewer continued, "until I asked him if he was going to be in the Royal Rumble match when the WWE rolls into the US Airways Center in Phoenix, Arizona and Zack got that same thousand yard stare in his eye and said, "four thousand, five hundred and sixty two", leaving me even more confused."
"On a hunch I called the US Airways Center and asked them if that number meant anything to them and, after taking some time to search their records, came up with it as the number of lights that hang in the arena. I did the same with the Carlson Center and, again, it was the number of lights that hang in the ceiling."
Our interviewer went back for a follow up interview with Zack Ryder, but was stopped by Steve Lombardi, better known as the Brooklyn Brawler who currently assists wrestlers backstage as a road agent, as Zack Ryder was currently having a match.
"I know what this is about," Steve Lombardi said, "you see, I once had the same "power", what we in the business secretly call "The Shining" and, no, it's nothing like that movie". He went on to explain that, "in this business, you get to the point where you job so often and go to so many places that, when you're on your back in the ring, you gain this uncanny ability to count the lights; it's amazing, really."
On the way out of the building, our interviewer overheard Zack Ryder having a post-match conversation with one of the lighting technicians. "Bro, there's over thirty seven lights out up there, are you serious?"