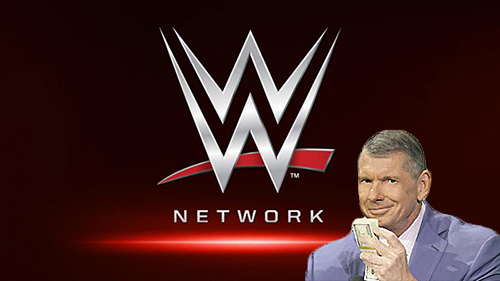 Stamford, CT – WWE officials have unveiled a slew of new pricing plan tiers for the WWE Network. After plans were leaked online, the company moved quickly forward in hopes of garnering more attention. The list appeared on WWE.com along with a statement from Vince McMahon saying, "We hope to bring even more specialized entertainment to the ever-growing WWE Universe. Frankly, I have no idea what you marks want, so here's a bunch of random stuff we've gotten our hands on. Now pay up or get out!"
The new payment tiers are as follows:
Free: As our gift to you, enjoy The Best Of Stephanie McMahon: Promos, Matches, And Even More Promos!
$0.99 – Watch a livestream of complaints about WWE on Twitter.
$1.00 – Access to one PPV pre-show. Excludes Wrestlemania, Royal Rumble, Summerslam, and Survivor Series.
$2.00 – Automatically blocks your friends on social media from talking about wrestling companies that are not affiliated with WWE.
$5.00 – A fan re-enacts all pay-per-views with old LJN figures.
$10.00 – The same as the $9.99 version, just one penny more!
$14.99 – Random wRestler – Watch only matches from a wrestler of our choosing. Who will you get? Jack Swagger? Essa Rios? The Goon? Please note: Offer excludes The Underaker, Stone Cold Steve Austin, The Rock, Shawn Michaels, Bret Hart, Ric Flair, Kurt Angle, Hulk Hogan, Sting, Brock Lesnar, and Macho Man Randy Savage.
$19.99 – Livestream access to the writer's room before RAW.
$24.99 – Replace JBL's commentary with soothing ocean sounds.
$29.99 – All Pay-Per-Views plus every WWE Studios film, No Holds Barred, Santa With Muscles, Mr. Nanny, Suburban Commando and Abraxas, Guardian Of The Universe.
$39.99 – Replace Michael Cole's voice with clips of Jim Ross reading the newspaper.
$50.00 – Old-School Edition: Millenials: The Monday Night Wars play on repeat and nothing before 1997 can be accessed.
$60.00 – Actual Old School Edition: Nothing after 1989 can be accessed plus a new show called "Jim Cornette Yells At You For 20 Minutes".
$69.69 – Lawlervision: Access to only women's matches, Nitro Girls dance routines, and Sable interviews.
$100.00 – Gookervision: All your favorite Wrestlecrap moments narrated by Todd Pettengill and Stubby.
$10,000 – Access to every piece of film WWE has plus Vince McMahon himself will leave a message on your voicemail and call you "Pal".
$1,000,000 – You're probably going to end up spending this much on wrestling-related stuff over your lifetime, so you might as well just give it to us all now.
Sign-ups begin January 1st or until Raw ratings dip below 2.0.