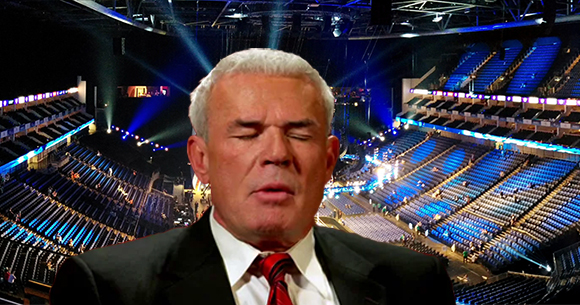 Newark, NJ – In a surprise move, WWE officials have future endeavored their entire fanbase, replacing them with the friends of newly hired executive directors Paul Heyman and Eric Bischoff.
The move to replace fans is seen by many as a way to prevent fans from voicing their displeasure.
"Look, last week was great for Raw and Smackdown, but we can do better," said Bischoff. "If fans of Game Of Thrones don't like something, they can't just shout down Jon Snow in the middle of an episode. They just go where all opinions go: the empty void of Twitter. Why should our shows be any different?"
"We need quality control," said Heyman. "Also, we need lots of cursing and hot babes."
Die-hard WWE fans were obviously shocked when they heard the news.
"I was all set to go to Raw tonight when I got this certified letter in the mail," said lifetime fan Sal Devito. "It says, 'We thank you for your years of service. At this time, your fandom is no longer needed. We wish you the best of luck in your future endeavors.' Unbelievable!"
"I was just doing my usual Monday morning ritual," said Belinda Barkley. "I woke up around 10:30, ate some Pop Tarts straight out of the box, and turned on the Network to watch Holy Foley. I was shocked when a messaged said that my subscription had been cancelled. Now I'll never know what happens with Noelle and Mick!"
"What am I supposed to do now?" asked Green Shirt Guy. "Talk to people?! Read a book?! Gross!"
Tonight's Raw live audience will feature Paul Heyman's extended family, Sign Guy, Hat Guy, Tommy Dreamer, and every woman he has ever talked to on Twitter. Smackdown's live audience will be completely empty because Bischoff has no friends.