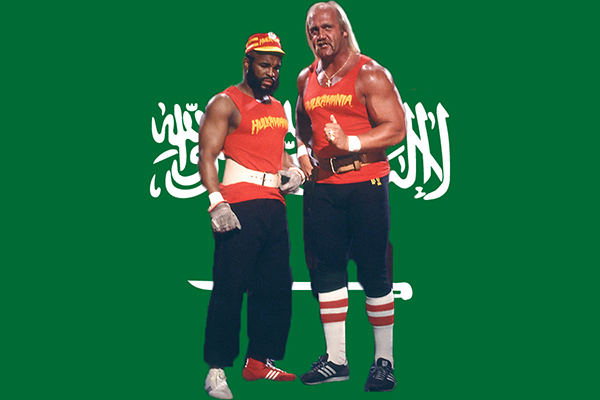 Stamford, CT – Hot on the heels of their latest special event in Saudi Arabia, WWE has announced that they will be recreating the classic Wrestlemania I main event match that featured Hulk Hogan and Mr. T taking on "Rowdy" Roddy Piper and "Mr. Wonderful" Paul Orndorff.
"We are very excited to be going back to Saudi Arabia so soon," said WWE CEO Vince McMahon, sitting atop a pile of blood-soaked money. "This time around, we're going to be doing something truly special: We will be seeing a rematch of one of the greatest main events of all time. In one corner, the immortal Hulk Hogan and the legendary Mr. T. In the other, the dastardly 'Rowdy' Roddy Piper and the spectacular "Mr. Wonderful" Paul Orndorff! It's a rematch 34 years in the making!"
The addition of Hogan and Mr. T to the event has garnered main stream attention, but several wrestling news outlets have pointed out the difficulty of filling the rest of the match.
"Where there's a will, there's a way," said Triple H. "Our generous benefactor Mohammad Bin Salman has stated that he wants this rematch, so we'll give him this rematch. Naturally, we'll have to make some…adjustments, but it will still have the same feel as the original match."
PWTorch's Wade Keller reports that "Rowdy" Drew McIntyre will be filling in the role of Piper much in the same way that sumo Hiroki Sumi posed as Yokozuna at The Greatest Royal Rumble. Keller also says that Paul Orndorff, who has suffering from health issues in recent years, will be replaced by "Mr. Wonderful" Paul Leveque.
"It's going to be a great event," proclaimed Triple H. "We're even having the original managers return. In one corner 'Cowboy' Bob Orton will supporting 'Rowdy' and 'Mr. Wonderful'. In the other corner will be none other than WWE legend 'Superfly' Sivi Afi!"
The event, tentatively titled "SuperShowdown: The Search For More Money", will also feature a 60-man battle royal, Shane McMahon defecating on The Miz, and The Undertaker versus Harley Race.