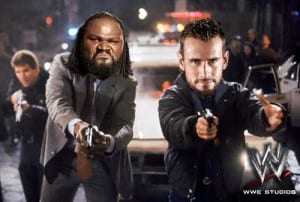 Stamford, CT – During a meeting at Titan Towers, WWE CEO Vince McMahon announced plans to release a new movie under through WWE Studios that will turn the failing studio around.
"I've got a great new idea for our next movie," barked Mr. McMahon. "I watched a new movie called 'Lethal Weapon' last night on laser disc and thought it was great. It had action, suspense, comedy, and lots and lots of explosions. It starred Mel Gibson and Danny Glover…"
Triple H cut McMahon off, saying, "Uh, we know Vince. It was a pretty popular movie. In 1987. They actually made a bunch of sequels too."
"Oh, well, I've never heard of it so it couldn't have been that popular." dismissed McMahon. "Anyway, we could have our own cop movie starring two opposites that, despite their differences, manage to save the day. I took the liberty of writing out a few ideas," said McMahon, reaching for his Apple Newton. "It's going to be called 'Fat Man and Little Boy' starring CM Punk as brash rookie Bill 'Fat Man' Walker and Mark Henry as the seasoned veteran Andre 'Little Boy' Jackson.
McMahon continued, "They have very different styles, but manage to get the job done. Fat Man keeps rushing into things, expects to be rewarded for doing a good job, and speaks his mind too often. Little Boy just tries to do his job, all the while saying 'I'm too old for this stuff.' The main villain will be Robert Patrick who did such a great job for us on The Marine. He wants revenge on both Fat Man and Little Boy for sending his son to jail. Or something. We can even include The Shield as his bodyguards. It's a great chance for us to showcase our talented Superstars and put out an entertaining product "
"Vince that's….actually a pretty good idea," said a surprised Triple H. The room murmured in agreement. "Especially the part where you call CM Punk 'Fat Man'. He sure does have a skinny fat ass!" chuckled Triple H. "As long as we keep it pretty simple, we may actually make money off this."
McMahon, feeling confident in his new idea, said, "Oh, and the love interest is going to be my daughter, Stephanie!"
The room responded with a mixture of groans of disgust, agonized screams, and the sound of hair being ripped out.