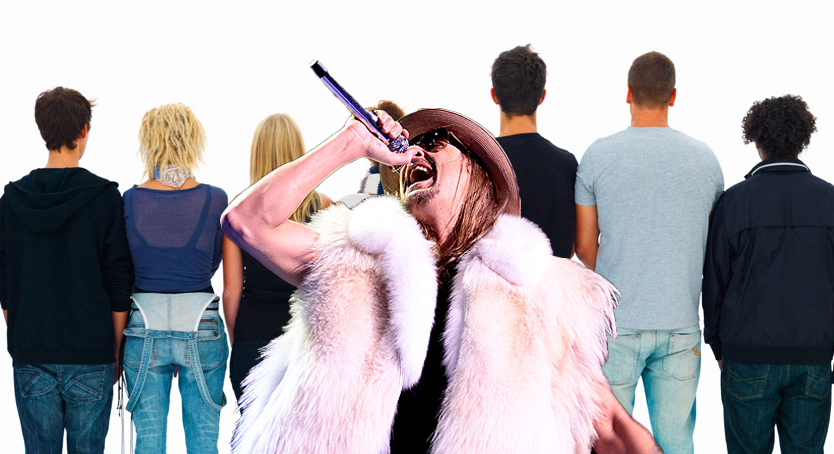 New Orleans, LA – WWE officials, staff members, and Superstars have all collectively started to ignore Hall of Fame Inductee Kid Rock.
The rap/rock/country artist arrived in New Orleans early this morning to go through a walk-through for his WWE Hall of Fame inductions. The wrestling world was shocked  when he was announced alongside beloved professional wrestling figures as Goldberg and the Dudleys. Many feel that his limited exposure to the business and the fact that he filmed a sex tape with Creed frontman Scott Stapp would have disqualified him for consideration.
Kid Rock's stretch camouflage limo parked in a distant lot, forcing him to walk. Bursting through the arena door in his American flag-colored mink coat, Rock's demands of "Peanut butter and caviar sandwich, no crust!" went unanswered. He audibly sighed when his assistant handed him a lukewarm Diet Mr. Pibb after not being able to find craft services.
Stagehands, electricians, and Teamsters buzzed around Rock and his entourage, putting the finishing touches the Hall of Fame displays. Rock and his crew tried desperately to get someone's attention. Shouts of "My name is Kiiiiiiiiiiiiiiiiiiiiid Rock!" echoed throughout the arena.
"Hey, yo!" shouted Kid Rock to a portly crew member. "Take my acceptance speech and put it into the Teleprompter!" Without missing a beat, the crew member took Kid Rock's speech, blew his nose with it, and dropped it to the floor.
Upset, Kid Rock wandered backstage, running into several Superstars. The New Days quickly put their headphones on and Braun Strowman pretended to be on his phone. Finn Balor stood perfectly still hoping that Kid Rock was part Tyrannosaurus Rex. WWE CEO Vince McMahon simply turned his back on Kid Rock, continuing to give instructions to workers.
"Hey! Hey, Bayley ! I'm feeling pretty down. Can I have a hug?" begged Kid Rock to the fun-loving star.
"Fuck off, scumbag," said Bayley harshly as she slapped his hands away and rushed past him.
Kid Rock was removed from the arena by security for trespassing and his fur coat was thrown out.