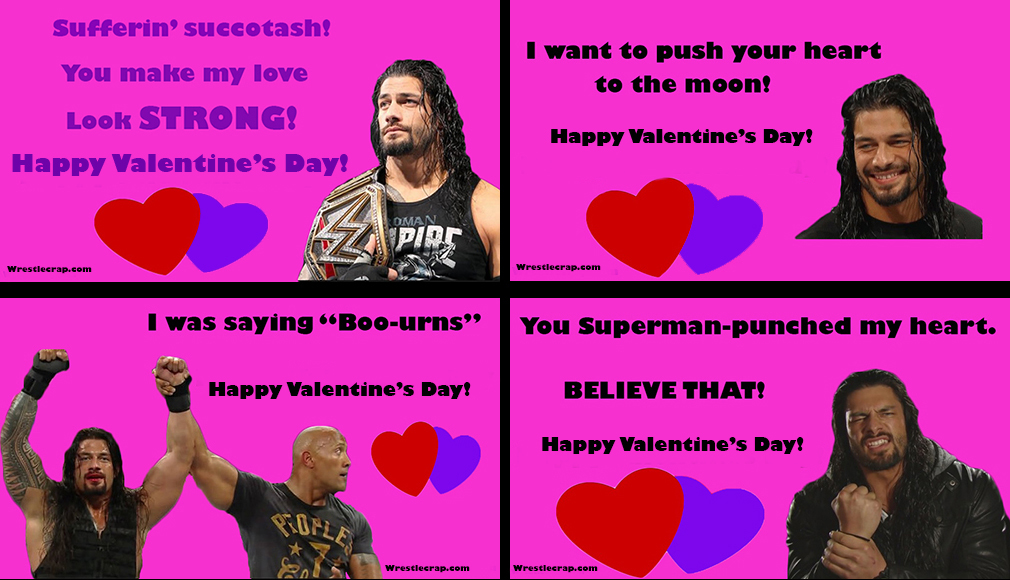 Pensacola, FL – In honor of Valentine's Day, WWE has released a series of Roman Reigns-themed Valentine's Day cards.
"When I think of love, I think of Roman Reigns," said WWE CEO Vince McMahon. "He's just so strong and handsome. I mean look at those eyes! That smile! That long luxurious hair that can barely be tamed! Those huge, bulging biceps just aching to be rubbed with warm baby oil!"
McMahon took several seconds to compose himself before continuing.
"We know our fans love Roman Reigns so WWE is giving them Roman by the barrel-full. This past week on WWE.com, we released limited-edition Roman Reigns Valentine's Day cards. Tell your loved ones, sweeties, boos, and various other significant others how much they mean to you with a Roman Reigns VD card. Whether they have Superman-punched your heart or speared you into wedded bliss, let Roman tell them! Happy VD, WWE Universe!"
"This opens up a whole new avenue for us: Roman Reigns merchandise for all holidays," said McMahon, his eyes wide with delight. "We can have Roman Reigns trees for Arbor Day. Roman Reigns Columbus Day hats. Roman Reigns Secretary's Day appreciation gift cards. Roman Reigns Hemorrhoid Awareness Month inflatable donuts! Yes! YES!!!" screamed McMahon before passing out.
While sale numbers on the Roman Reigns Valentine's Day cards have yet to be released, a printing error of a Kevin Owens Valentine's Day prototype card (shown below) has already sold out.