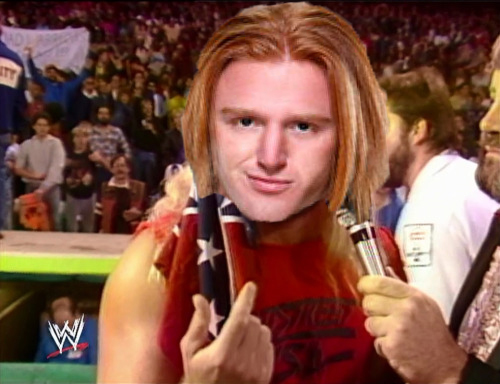 Badstreet, USA – WWE officials have officially announced that video, pictures, interviews, and mentions of Michael "P.S." Hayes will now be replaced with WWE Superstar Heath Slater.
In a conference call yesterday, WWE CEO Vince McMahon said, "In light of recent invents going on in the Southern United States, we feel that as a company it is time to move forward. As the country moves away from it's divisive and very, very Southern past, so too will the WWE Universe. The winds of change are blowing and let no one say that the WWE does not also blow."
WWE interns have been working feverishly to update the companies extensive library to digitally place Slater's head on top of Hayes's body.
"It's been a really difficult few weeks," said 19 year-old New Media intern Bella Melina. "Most of the work is done in Photoshop like feathering and color correction. That sort of thing. The hardest part is cutting out Slater's face. It's just so angular. I think I might be developing carpel tunnel."
Slater has been hard at work, doing motion-capture work as well as re-recording all of Hayes's interviews for the WWE Network.
"Lita wasn't a woman, she was a chick!" said Slater. "Sorry, can we try that again? I don't think I nailed the 'chick' part."
"If all goes well, WWE plans to replace other things deemed Southern…I mean offensive," said McMahon shuddering at the notion of things being from below the Mason-Dixon Line. "Maybe we can have Roman Reigns replace all footage of Ric Flair, John Cena replace "Wildfire" Tommy Rich, the New Day will replace the Midnight Express, and Ted Turner will be replaced by a hot dog with a cotton ball on top of it," said McMahon, laughing to himself.