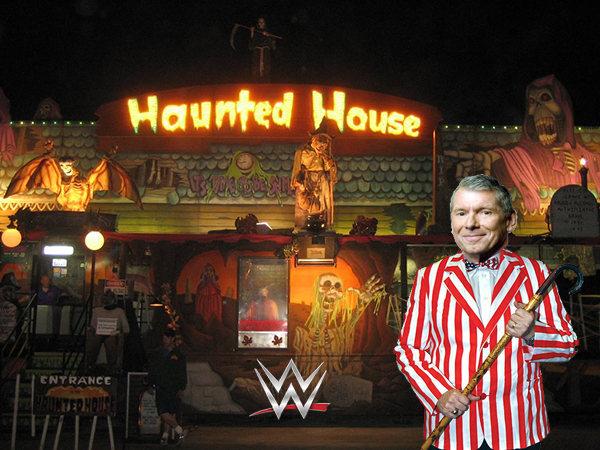 Armonk, NY– WWE announced their latest venture outside of professional wrestling with the grand opening of the official WWE Haunted House at the Armonk Halloween Spooktacular and Pie-Eating Contest.
WWE CEO Vince McMahon was on hand at the opening of the haunted house. Dressed in pinstripes, McMahon barked at passers-by, saying "Step right up, folks! Step right up! See the most shocking, blood-curdling, thrilling, exciting, and death-defying haunted house in all of the greater Greenwich, Connecticut suburban area!"
The amusement has various attractions that contain a unique WWE twist. On the first floor, people must traverse the terrifying process of having your indie wrestling credentials destroyed as you're given a new WWE-approved name. People are given "Hi My Name Is" stickers with hand-written generic and uninspired names such as "Chad Greg", "Gina Love", "Chuck Berger" and "Todd".
In the foyer, fans can look into the spooky "Mirror of Future Gimmicks" where they can see how they will be portrayed on television. Beyond the mirror lies "The Hallway of Creative Has Nothing For You". Several members of WWE's writing staff line the hallway, simply shrugging in your general direction as you walk by. The main stairway to the second floor will turn into a slide at random times, mimicking the difficulty of WWE Superstars ascending to the next level. There are also several trap doors in the house meant to mimic WWE's ratings plunge.
People must reach for the elusive set of brass rings dangling from the ceiling in order to reach the upper floor. Once there, they must endure deafening boos and annoying chants of incredulous fans. Following that nightmare, they must proceed through the "Bathroom of Stupid Things Posted On Social Media" and on to the final room: a small theater showing back-to-back viewings of Halloween Havoc 1991 and Halloween Havoc 1998. Those brave enough to survive the horrors of the WWE Haunted House will receive a free 3-month subscription to the WWE Network and your choice of a WrestleMania 31 Jailbird Work Shirt or a Naomi ponytail hat.
So far, no one has been able to complete the haunted house, though Dixie Carter has tried several times stating, "I just want that dang hat so much!"