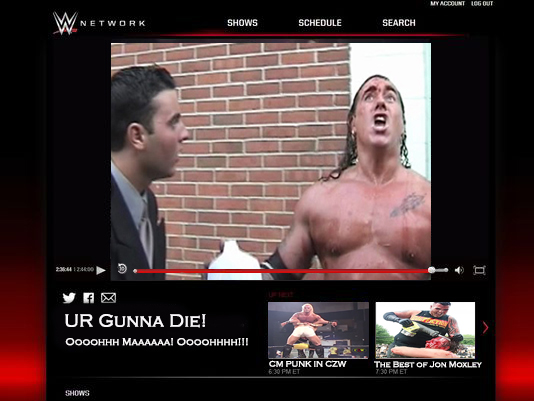 This Headlie was written by crapper Paul Sebert. Thanks Paul!
Stanford, CT – Facing new streaming competition from Flo Slam, New Japan World, Highspots, and Chikaratopia, the WWE has taken a proactive approach to adding new content to the WWE Network. Yesterday, a landmark video streaming deal was struck between the WWE and Philadelphia-based independent promotion CZW.
"We've listened to the voices of you, the WWE Universe, and we will give you exactly what you want, said Triple H during a press conference. "Tournament of Death 2016. Cage of Death XIV. Night Of Infamy 2006. These are just some of the god-awful CZW shows made during this century. Tragically, the video for wrestling shows like these are not deteriorating fast enough. For just $12.95 a month, not only will you get all the incredible live shows and original content that the WWE Network is known for, but you can also help us delete the entire CZW library. This will allow the archived matches of Nick Gage, MASADA, and others die a gentle, natural death. We will use the proceeds of this premium tier to transfer the videos to a volatile silver nitrate film stock so that they'll rot quickly into nature's compost."
"This situation is serious," continued Triple H. "How often have you scoured the internet for an A.R. Fox or Drew Gulak match only to stumble  upon Matt Tremont bleeding in a pumpkin patch? If you don't act now the entire career of D.J. Hyde might be available for our children and grandchildren to view. Heck, we may just show some of this stuff on the Network just so people know that it doesn't compare to the incredible and always-entertaining WWE product!"
"This is a savy move by WWE," wrote Between The Sheets podcast host and Figure Four Weekly writer David Bixenspan. "There's a whole subset of hardcore fans who would hesitate to subscribe to the network, but would gladly pay for the luxury of never seeing CZW again."
Not everyone is happy about the new move.
"JEEEEEEEEEEEE-ZZZZUSSSSSSS!!!" yelled CZW founder John Zandig