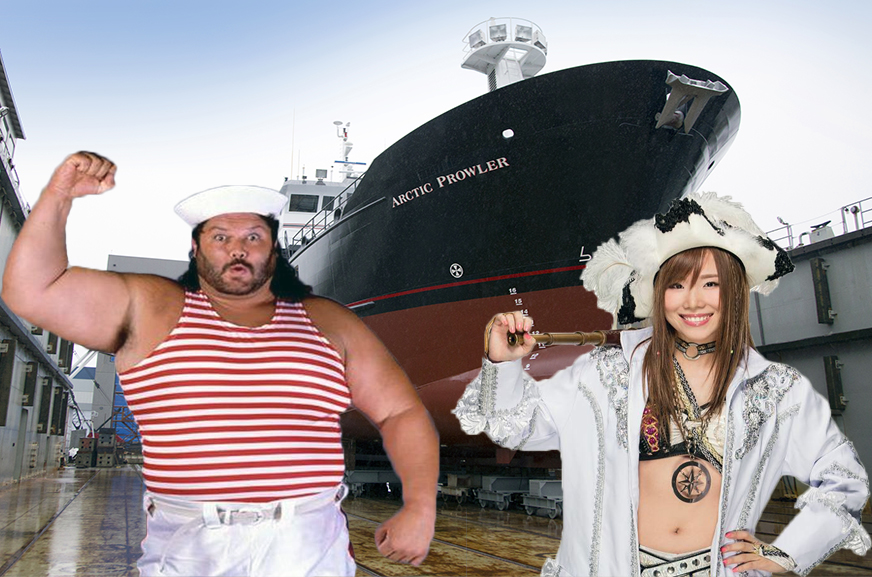 Lakeland, FL – WWE has launched a new mentoring program pairing veterans from the past with current Superstars. The program is similar to the NXT coaching concept with the exception that some forethought and planning was put into the pairing process.
"After seeing the success of Raw 25, I just knew we had to bring back some of our old Superstars," said Vince McMahon. "We had a ton of press about it. You don't need to actually read the articles, just knowing they exist is good enough."
"The WWE Universe loved seeing the old faces, so we're bringing them back. Their knowledge will help our current roster and will bring back the fans who usually fall asleep somewhere in the second hour of Raw."
Fans have responded positively to the program, particularly for the team of Mae Young Classic Tournament-winner Kairi Sane and former WWE Tag Team Champion Tugboat. The two sea-faring Superstars are a natural fit and have bonded instantly.
"I couldn't be more thrilled to be teaching Kairi Sane," said Tugboat who was training Sane in a local shipyard. "She was fantastic in the tournament and I nearly knocked over my bowl of Captain Crunch when she 'walked the plank' at the Royal Rumble. She's got what it takes to be a Hall of Famer. I'm just here to help push her to the next level."
Tugboat has been working hard with Sane, having her lift ropes and shipping boxes on wet piers to increase her strength and balance. She has also been gutting fish to show she is willing to work hard and not afraid to get dirty.
"Give me a 'Toot'!" commanded Tugboat.
"Toot!" giggled Sane.
"No! Toot like you mean! Like this: Tooooooooooooooot!" instructed Tugboat.
"Toooooooot!" shouted Sane, stifling her laughter.
"With my help, the Pirate Princess will become the Pirate Queen!" declared Tugboat.
Footage of their training will be available through Coliseum Home Video next month.
While the other mentoring pairs have yet to be revealed, fans are hoping that Sid Vicious mentors Gentleman Jack Gallagher.