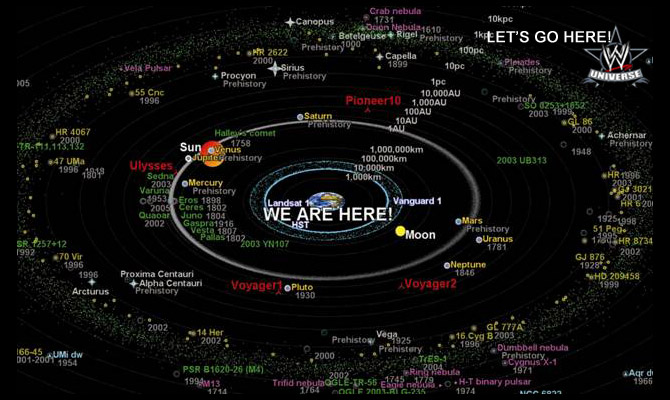 Stamford, CT – For those of you who think the WWE's anti-bullying campaign is already ridiculous, according to our WWE insider, Vince McMahon is taking the "Be A Star" program in a new direction… and it's out of this world.
"I think Vince is taking it a bit too literal," our WWE insider admitted over the phone, "he basically wants to be the first promoter to run a wrestling show in space."
"Think about it," Vince was heard to say, "we are WORLD Wrestling Entertainment, and we say that we cater to the WWE UNIVERSE, now it only makes sense for us to put our SuperSTARS where they truly deserve to be!"
"It actually isn't that crazy when you think about it," a noted wrestling historian said when reached for comment. "I mean, look, the territories are gone. The WWE is more or less the only major player in town on a world-wide scale. It only makes sense that they would try and expand. The sky is no longer the limit."
Word has it that WWE has reached out to both NASA and Space-X, with neither of the two space exploration companies returning their respective calls.
"If I have to do it on my own, so be it!" Vince was heard to yell in frustration. When asked if he would ask the Russians for help, he responded by saying that, "I'm not going to trust those Commies! We ARE still fighting the Cold War, right?"
A representative from TNA, soon after hearing of this development, also expressed interest in putting on a wrestling show in space. When word got back to Vince about this "Wrestling Space Race", as the internet has started to call it, our WWE insider said that Vince quickly made a very important phone call to the WWE Films division of the company.