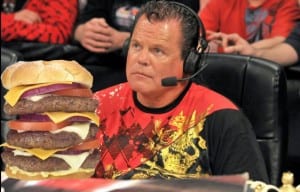 Las Vegas, NV – During a meeting of top WWE officials, Vince McMahon announced a new partnership with the Heart Attack Grill fast food restaurant. He also plans to have WWE Hall of Famer Jerry "The King" Lawler as their official spokesman.
"It's all about synergy!" said Vince McMahon. "Nothing says "Wrestling Entertainment" like fast food. Over the past few weeks, we've had great on-air promotions for both Sonic and Dominoes. They've helped our bottom line and provided our fans with the salty and fatty foods they crave. Jerry, you've done a great job putting this stuff over and we'd like you to do the same for Heart Attack Grill."
"Please, Vince. I really don't want to do this," said Lawler. "I'm still in recovery. Can't I just go back to oogling barely-clad Divas? I'm way more comfortable screaming about 'puppies' than popcorn chicken. This sounds like a rib on me for having heart problems."
"Absolutely not, King!" said McMahon. "Why would I want to punish you for almost dying on live television when I specifically told you to laugh at John Cena's jokes?"
"I guess," said a wary Lawler. "Alright, what exactly do you want me to do?"
McMahon exclaimed "It's going to be great! We're going to have the Bella Twins dressed as nurses and have them bring you out the Quadruple Bypass Burger, Flatliner Fries, which are cooked in lard, a chocolate Butter-Fat shake, and a can of Jolt Cola. You'll take a few bites and tease clutching your chest. It'll be hilarious!"
"Ok, now I knowthis is just a rib on me. I can't have all of that beef, cheese, and bacon, Vince. Do I really have to eat it? Don't they have a salad or something?" said an exasperated Lawler.
"Ketchup is a vegetable. You'll be fine," dismissed McMahon.