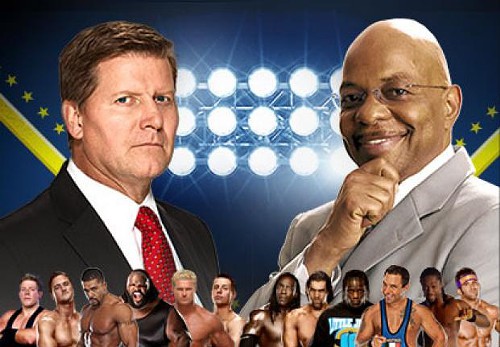 Miami, FL – After years of oversight, WWE officials have finally enforced the stipulation from the match between Team Johnny and Team Teddy from Wrestlemania XXVIII.
The match pitted members of both Raw and Smackdown, each representing their respective General Managers. Team Teddy, representing Teddy Long, consisted of Santino Marella, Kofi Kingston, R-Truth, Zack Ryder, The Great Khali and Booker T. Team Johnny, representing John Laurinaitis, consisted of David Otunga, Mark Henry, Dolph Ziggler, Jack Swagger, The Miz, and Drew McIntyre. A stipulation was added to the match that who ever lost, would be fired from their GM position.
"Well, I admit, we, uh, we've been kind of busy these past few years," said an embarrassed Vince McMahon. "Sometimes these things happen. Between the excitement of Wrestlemania, the network, WWE Studios, my wife Linda's second unsuccessful senatorial campaign, losing millions of dollars, and a really good chicken Caesar wrap I had last week, firing Teddy just slipped my mind."
"Oh how sweet it is!" crowed the gravel-voiced Laurinaitis during his break at the Kum-n-Go. "Revenge is a dish best served cold. I mean, I was fired long before Teddy was, but it still feels good. This is people power!"
Long, who has spent a career in professional wrestling and over a decade with the WWE, quietly whispered "Holla holla, player," to himself as he gathered his belongings from his desk.
"The only thing that will cheer me up now is a tag team match. I'll be teaming with a spoon against a carton of Breyer's S'mores ice cream and my feelings," said a misty-eyed Long.