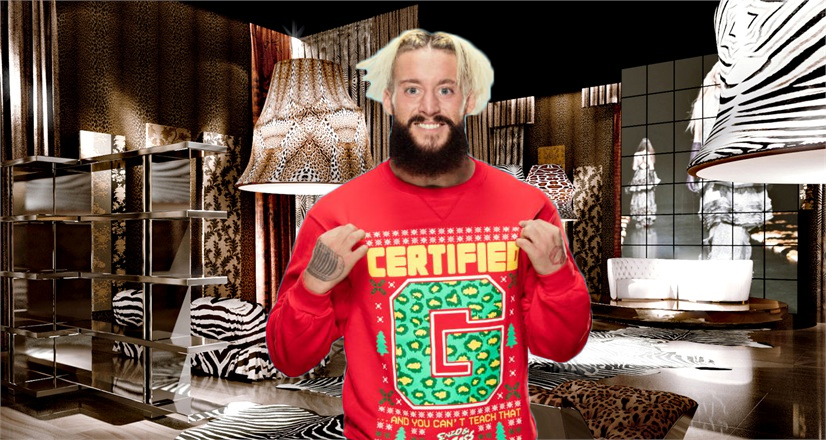 Hackensack, NJ – WWE's Cruiserweights celebrated the holiday season together much to the chagrin of current Cruiserweight champion Enzo Amore.
The stars of 205 Live played in the snow, ice skated, and enjoyed each other's company. It made Amore sad.
"Bah, humbug, yo," said Amore starring out the window of his leopard-print covered apartment while all the other WWE Cruiserweights having fun in the snow. "I'm sick of this cheer and goodwill towards man," he said as he cranked the heat up in his apartment to a balmy 85 degrees. "I wish I was down on the Jersey Shore, kicking it with some fine Howell honeys and New Brunswick babes."
Cedric Alexander noticed sad Amore staring out his window and had an idea.
"Hey, gang! We should do something nice for Enzo," said Alexander.
"No way," protested TJP. "He's a total booger head."
Several other wrestlers agreed.
"He's all alone on Christmas and everyone deserves to be happy on Christmas!" said Noam Dar.
"He's on the second floor, that's way to high up for me," said Drew Gulak.
"Come on, guys. I know something that will cheer Enzo right up!" said Kalisto.
The group of Cruiserweights rang Amore's doorbell. Amore opened the door, greeting the group with the loud sounds of late 90's hip-hop and Axe body spray. "What do you dorks want? The champ is busy!" yelled Amore.
"Merry Christmas!" shouted all the Cruiserweights.
"Feliz Navidad!" said Lince Dorado as he gave Amore a lucha mask with a festive bow on top.
"Happy whatever!" coughed The Brian Kendrick handing Amore a strange pencil holder.
"Merry Christmas, old chap!" said Gentleman Jack Gallagher, giving Amore a brand new umbrella.
One by one, each Cruiserweight gave Amore gifts. Tears welled up in the champion's eyes. "I had you losers all wrong. You really know how to treat someone that's better than you in every possible way."
"It's not over yet," said Alexander. "We brought a special guest with us."
Suddenly, Santa Claus came into Amore's gaudy apartment.
"Santy!" screamed Enzo as he jumped into Santa's lap. "You got all my letters and finally came!"
"Yip yip yip!" said Santa in a gruff voice
"Wait, you're not Santa!" shouted Amore. He pulled Santa's beard off to reveal that it was, in fact, former WWE star Ryback.
"That's right, my teeny, tiny, bite-sized little buddy. These midgets gave me a call and the Big Guy is back!" screamed Ryback while slapping himself in the head. "I'm full of eggnog -flavored beef jerky and ready to win me a Cruiserweight championship!"
"Merry Christmas!" shouted the Cruiserweights as they closed Amore's apartment door amid the sound of breaking furniture and jingle bells.