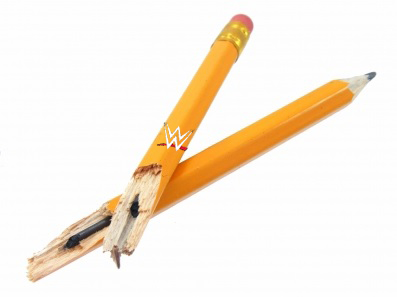 Stanford, CT – WWE now has a clear picture of what the main storyline into Wrestlemania thanks to an impromptu battle royale among the writing staff.
The violent melee took place following the Raw writing crew's weekly meeting. After rapping up the plans for this evening's Monday Night Raw, WWE CEO Vince McMahon addressed his writers.
"Now is the time for my entertainment!" said McMahon atop his makeshift throne made of gold-plated wrestling boots and broken dreams. "Security! Bring in the implements of pain and lock the doors!"
McMahon sipped mead from a skull-shaped goblet, clapped his hands, and said, "Fight for your Wrestlemania ideas! Fight for your notoriety! Fight for the entertainment of your king! Commence the battle royale!"
After several seconds of confusion, the writers began attacking each other. Chairs, laptops, and spiral notebooks, were used both offensively and defensively. McMahon laughed heartily at the carnage before him. After 30 agonizing minutes in which several writers were severely injured, a winner emerged.
24 year old Writing Assistant Ben Greenberg claimed victory after jamming a pencil in his co-workers forehead and throwing him out of a window.
"Congratulations, pal!" said McMahon. "You have curried favor with me. Now, please share with us your ideas for Wrestlemania!"
Elated, Greenberg began his idea, "Well, we have Cesaro…"
"Next!" shouted McMahon.
Greenberg quickly tried to come up with another idea, "Ummm, okay, well, uh, Sami Zayn and Samoa Joe…"
"Next!" shouted McMahon again.
Rattled, Greenberg quickly blurted out, "Randy Orton and Bray Wyatt each have Wrestlemania entrances that take an hour long and then Roman Reigns becomes champion somehow!"
"I love it! Way to go pal! People are going to remember this Wrestlemania for the rest of their lives!" said McMahon proudly.