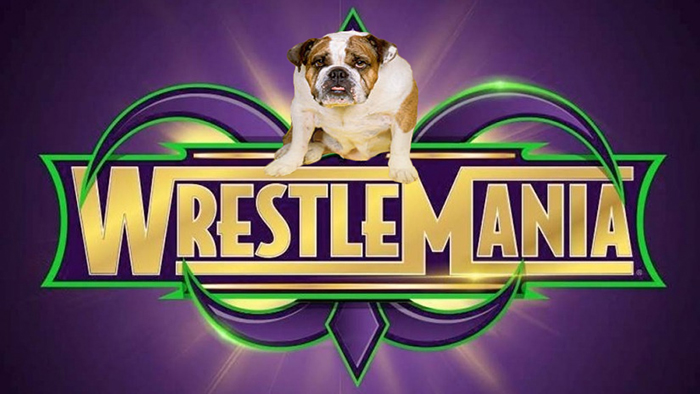 Stamford, CT – At a press conference earlier today, WWE officials announced that Wrestlemania will be hosting the inaugural all-animal Matilda Memorial Battle Royal.
"The fur is really going to fly at this year's Wrestlemania as thirty animals will battle in a WWE ring," said Chief Brand Officer Stephanie McMahon. "Strong. Powerful. Smelly. These unique Superstars have set the bar for the entire animal kingdom."
Matilda was the mascot and manager for the British Bulldogs tag team in the 1980's. She was famous for chasing Bobby "The Brain" Heenan around the ring and for telling Dynamite to "hit 'em with a dropkick."
McMahon explained the match's name saying, "I used to play with Matilda backstage as a little girl. We had an incredible friendship and she deserves to be memorialized on the grandest stage of them all. Also, my dad still won't let me name a match after myself."
Participants already mentioned for the event include Frankie the parrot, Damian the snake, Ricky Steamboat's komodo dragon, Bad News Brown's giant sewer rat, Torrie Wilson's dog Chloe, a pile of the Boogeyman's worms, and El Torito.
"Of course we will have a few surprise entrants," said McMahon with a wink. "WWE always tries to provide an air of unpredictability to these matches. Additionally, New Orleans is pretty lax with their animal fighting laws, so that really helps. Grab your Hurricanes and come on down!"
Fan speculation has already led to predictions from Mantaur to Jack Swagger's Eagle to the Gobbledy Gooker.
"Tune in find out who will heel, roll over, or soar to victory," said McMahon to groans from the crowd.
WWE trainer Jason Albert is currently working with the animals at the WWE Performance Center. He is teaching them how to "work" the proper WWE style and has sustained several scratches and bites.