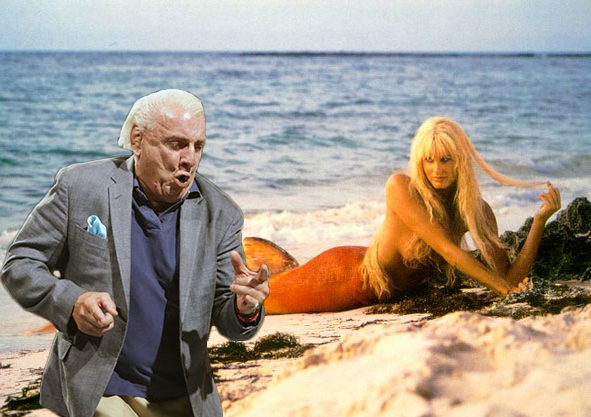 (Today's Headlie was written by Chris French. Thanks Chris!)
Stamford, CT — WWE will be restarting an old WCW tradition, the "Bash At The Beach", in 2017, Vince McMahon announced today.
The 2017 Bash will be held on Martha's Vineyard, at the Joseph Sylvia State Beach in Edgartown, MA, on July 2, 2017.
Standing outside the Edgartown, MA, Town Hall, with Mayor Larry Vaughn, McMahon announced that not only would the Bash be at the beach, but that the ring itself would be located on the water, with swimming spaces and floating grandstands for the audience surrounding it.
"WCW had a fine idea with 'Bash At The Beach'", McMahon said, "but they failed to take it to its logical conclusion. Now that the event is under WWE auspices, we can put it on the open ocean, where it was meant to be."
McMahon also previewed the list of matches scheduled, including the grand finale, a 20-man "Hardcore Rules" match where the ring ropes will be wrapped in barbed wire. "When salt water gets to open wounds, then we'll see who the hardest of the hardcore really is," McMahon said.
Some concerns have been raised about the safety of the match. Dr. Matt Hooper of Woods Hole Oceanographic Institute believes all the splashing about will have an unfortunate effect on local sea life. "All those people splashing around create the same signals as an injured or sickly fish, and we all know what that signals," he said.
Local police chief Martin Brody allowed as how "there's only two cops in town — myself, and a deputy; meanwhile, people will be coming in from all over the Eastern Seaboard."
McMahon laughed off these concerns. "The Vineyard is a summer isle — they need the summer dollars. We'll be pulling those dollars in for them," he said, smiling his famous toothy grin.
When asked for comment, WCW legend Ric Flair yelled, "The Nature Boy is gunna bag him some hot-to-trot mermaids at Bash At The Beach and show those sexy fish-ladies what it means to ride Sand Dune Mountain! Woooooooo!"
Tickets for the 2017 Bash will be on sale at 513 N Rd. Chilmark, Ma. 02535; or call 1-800-529-7733.