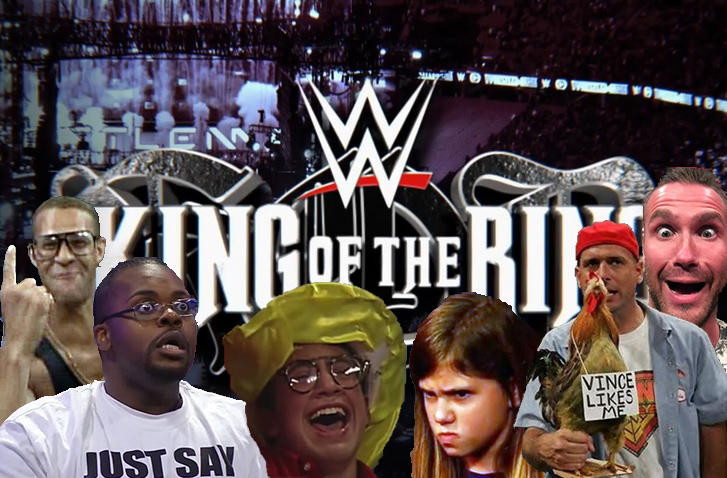 Roanoke, VA – WWE officials announced yesterday that they will once again be resurrecting the King Of The Ring tournament this year. While the concept remains the same, this version of the King Of The Ring will showcase various WWE celebrity fans that the internet has grown to love and/or hate.
"The WWE Universe is the greatest group of fans any organization can ask for," said Stephanie McMahon. "It's time they finally got their chance to shine and give back to us for once. We have combed through the best and the brightest and have narrowed it down in brackets to determine the ultimate WWE Fan!"
"It's a great bunch of dorks…I mean fans," said Triple H. "There's no telling who will win. The smart money is on WWE mainstay Vladimir, but don't count out Brock Lesnar Guy and Miz Girl! I can't wait to see what happens when 'Guy in Green Smiley Face Shirt that probably spends his entire paycheck so he can sit in the front row every few weeks' takes on Sign Guy!"
One edition to the tournament that has gained a lot of attention is the inclusion of "Crying Kid With Weird Yellow Hat" from Wrestlemania VII. Crying Kid, who openly weeped during the reunion of "Macho Man" Randy Savage and Miss Elizabeth, has become an internet meme over the past few years. Now a Lead Sales Analyst at MetLife, Crying Kid has returned to the WWE to take his rightful place in WWE history. He will be taking on Shocked Fan After Undertaker Lost At Wrestlemania.
"Now we will have a King of the fans to join our own king of the ring, Sheamus!" said Triple H.
Stephanie sighed and rolled her eyes while texting an apology to Wade Barret.