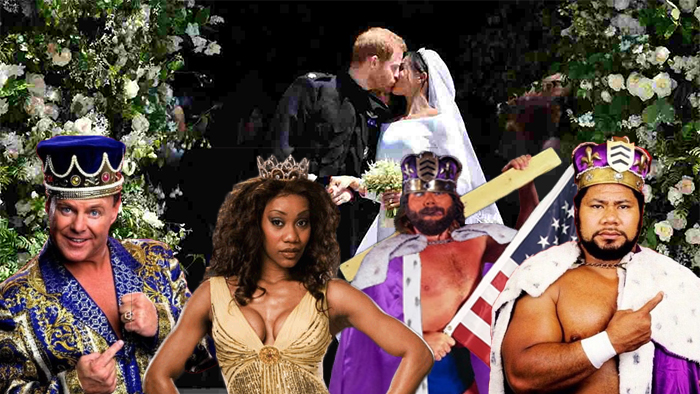 Windsor, UK – The wedding of Prince Harry and Meghan Markle was a fairy tale event complete with all the pomp and circumstance one would expect from royalty.
While the ceremony at Windsor Castle featured several celebrities in the crowd such as Oprah, George Clooney, and Serena Williams, multiple aristocrats were there as well. Along with King Vitamin and Queen Latifah, numerous wrestling nobles were also in attendance.
"Clearly, I am the Queen on WWE," said Stephanie McMahon while glaring at Charlotte Flair and "The Empress of Tomorrow" Asuka. "Without me, women's wrestling wouldn't be where it is today. No women's Royal Rumble, no women's Money In The Bank, no women's 10,000 Light Tube Deathmatch. I should have the biggest crown here while you all should grovel at my feet!"
"Puppies!" screamed Jerry "The King" Lawler as the Queen's corgis walked down the aisle.
"I could take all of these soft jabronis with just my feet, brother" said King Haku.
"I wouldn't even need my feet," said King Harley Race matter-of-factly.
"Hooo!' whispered King 'Hacksaw' Jim Duggan to himself as he gently wiped a tear away with his American flag.
"I need to find me some Stevewisers before I stomp a mudhole in one of these redcoat wearing goofballs in giant furry black hats," said King Steve Austin.
"Finally! A chance to be among my people!" said "The Duke of Dorchester" Pete Doherty.
"Truly, this is an event worthy of King Booker and Queen Sharmell," declared King Booker T. "Now which way to the loo? I must sit upon my throne and contemplate why I ate so many kippers before the ceremony!"
Due to previous scandals, King Billy Gunn, King Kurt Angle, and King Edge were not invited.
As a result of the wedding, WWE will resurrect the King Of The Ring Tournament and create the Queen Of The Ring, and the 205 Live Prince Of The Ring.