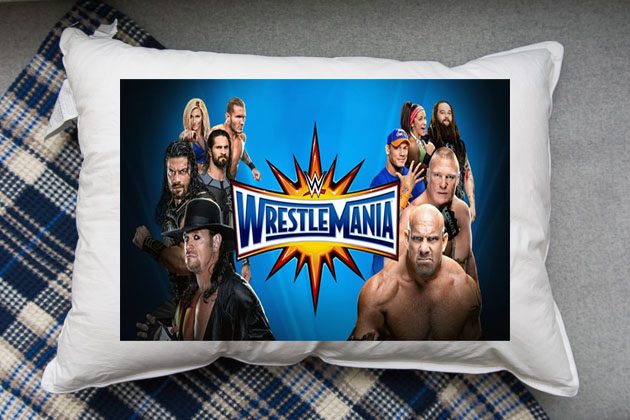 Orlando, FL – Officials with the Guinness World Records have announced that the crowd at Wrestlemania 33 set a world record for the most amount of naps had at a public sporting event.
Global President of Guinness World Records Alistair Richards made the announcement before Monday Night Raw. "I hereby present the WWE with this commemorative plaque, a honey-glazed ham, and my own personal thumbs up."
"Wow, I don't know what to say," said WWE CEO Vince McMahon. "You know, most of these records probably take years of practice and preparation. If we're being honest, we didn't put more than 5 weeks into this Wrestlemania and this record proves it. It was touch and go early on with all the excitement and pyro, but we made it!"
Guinness officials have said that the overall number of naps had throughout Wrestlemania 33 was 40,854.
Many of the fans who participated in the world record attempt explained what was going through their minds at the time.
"Oh, man. It was a really long weekend," said mattress tester Nick Woolford. "After Axxess, checking out Disney World, and going to a strip club event hosted by Grand Master Sexay, I just couldn't keep my eyes open."
"I was going pretty strong until that Randy Orton/Bray Wyatt match," said chicken finger-enthusiast Kenny Pete. "I barely made it through their entrances. I felt like I ate a Thanksgiving dinner and washed it down with Nyquil. Once Bray did that spooky bug thing for the third time, I was out like a light."
"Exhaustion hit me harder than a flurry of Shane McMahon's punches," said unicornologist Joel Haston.
"I burned myself out screaming for the Hardyz. I actually briefly slipped into an actual coma as soon when Triple H rode down to the ring in his tricycle," said professional elbow-dropper president Bill Bodkin. "I snapped out of it when Rollins came out with his giant torch thingy. I thought we were going to have s'mores or something.I was in and out for the rest of the night."
"Zzzzzzzzzzzzzzzzz," said cheap beer connoisseur Tim Kellers who was still asleep 24 hours after Wrestlemania began.
"On the one hand, I'm super pissed that I spent thousands of dollars for airfare, hotels, drinks, food, merch, and my seat and slept through the second half of Mania," said writer for HowBoutIt.com Scott Heisel. "On the other hand, I haven't slept that well in years. I actually feel great now."
"We've already got plans to beat the record next year," said McMahon. "The whole thing will be 8 hours long. Bray Wyatt will have a 30-minute promo. Orton will have an iron-man match with Roman Reigns in which only head and chinlocks can be used. Sin Cara versus Baron Corbin! Apollo Crews versus Bo Dallas with no buildup! The Rock will come out for no reason! Then we'll scrap it all with 2 weeks left to go. It is going to be magical!"