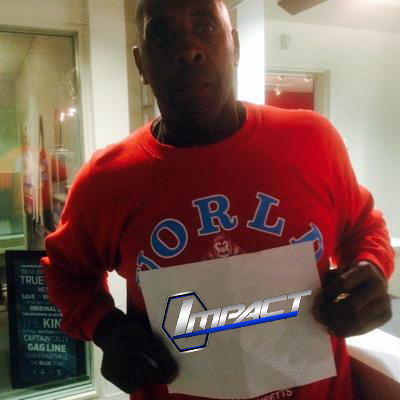 Pittsburgh, PA – TNA's long-time search for a new buyer came to an end Monday when former WWE and WCW wrestler Virgil bought the company.
Dixie Carter joined Virgil at an impromptu press conference in the back of Big Shot Bob's House Of Wings to discuss the acquisition.
"I'm proud of all the great wrestling we've put out over the years," said Carter over the din of patrons talking and eating. "Whether it was on weekly pay-per-views, Fox Sports Net, Urban America Television, Spike TV, Destination America, Pop TV, The Fight Network, Canal 9 in Denmark, or Sentanta Sports in Ghana, TNA always found a home to show the world what we're made of. Now the incredible legacy of TNA can continue under the new ownership of Virgil!
Virgil licked the buffalo sauce from his fingers and gave a slight wave.
"When did you know TNA was in financial trouble," asked Dave Molinari of the Pittsburgh Post-Gazette in-between bites of his Big Dipper sandwich.
"Uh-uh!" said Dixie. "We don't use the term 'financial trouble.' We prefer to call it the 'yuckies'. TNA has a bad case of the 'yuckies' after we parted ways with Spike TV, who were just absolute peaches the entire time. Same thing with those sugar cubes at Destination America, bless their souls."
"Virgil, how did you get the money to purchase TNA?" asked Richard Gray from WrestlingNewsWorld.com.
"You know I just gotta get that f-money," said Virgil, eyeing another plate of Garlic Butter Parm wings. "That GoFundMe page to make me a millionaire worked."
"How much did you raise?" asked Nick Hausman of Wrestlezone.com.
"$880 big ones," said Virgil. Dixie Carter then took out the pile of wrinkled $10s and $5s and smiled broadly.
"Virgil, are there any plans to change TNA?" asked Big Shot Bob himself while handing Dixie the check.
"Every Monday is going to be 'Meatsauce Monday'," said Virgil. "I'm the new champ. All other men are fired. All the Knockouts gotta face me to win the title and they can only win by sitting on my face."
Murmurs rippled throughout the press conference over the changes coming to TNA.
"Don't worry, ya'll! I'll still be making appearances on TV!" exclaimed Dixie.
The room let out a collective groan at things staying exactly the same in TNA.