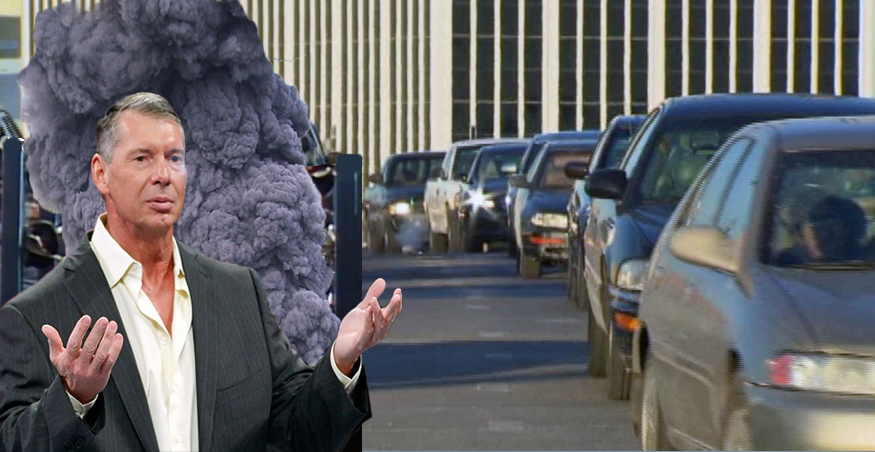 Texarkana, TX – Multiple problems have plagued Vince McMahon's journey to Wrestlemania, culminating in the breakdown of his motorized wrestling ring cart in eastern Texas.
McMahon embarked for Dallas, Texas from his home in Greenwich Connecticut on Tuesday morning. Forgoing a plane ride, McMahon decided to tour the country by himself.
The first problem McMahon ran into was a bout of food poisoning after eating a sandwich at a WaWa in southern New Jersey.
"I told him not to mix the BBQ Chicken Cheesesteak sandwich with turkey jerky, Sour Patch Kids, and Diet Mr. Pibb," said professional cuddler Scott Heisel. "It was pretty much the Wrestlemania IX of stomach aches."
At a motel in West Virginia, McMahon put his hand underneath the pillow and pulled out a large clump of what he thought was human hair.
"I was just sitting in traffic listening to the latest Review-A-Wai podcast when I saw something in my rear-view mirror," said Slip-N-Slide Safety Inspector Rob Carey. "It was Vince McMahon riding in those old Wrestlemania carts. He was flying in the breakdown lane."
"I guess he wasn't paying attention because he hit something on the shoulder and the cart broke down immediately," said Assistant Bread Crust Remover Joey Gaire. "Smoke started pouring out from under it. I was kind of hoping that the Undertaker was going to appear and give Vince a lift."
The mechanical problems created a setback for the already late McMahon, sending him into a rage.
"I had to roll down my window to hear what he was saying," explained pizza expert Daniel Deeds Leed. "Vince looked at his watch and yelled something about missing Kevin Owens at Axxess."
"McMahon was pacing back and forth sending out several Tout videos for help," said edible underwear model Jeff Slater. "I didn't have the heart to tell him that no one would see them."
After an hour of trying, McMahon took drastic action.
"Out of the corner of my eye I see Vince McMahon himself trying to open my passenger side door, said Absolute Contempt Records president Daniel Zambrano. "I told him 'Roman Reigns pees sitting down' and sped off. You should've seen the look on his stupid face. Totally worth it!"
McMahon finally got a ride thanks to the president of the Tamina Snuka fan club, Jonathan Diener.
"It was a little awkward for the first hour or so of the ride because Vince wasn't speaking," said "He just stared straight ahead gritting his teeth. He loosened up when I told him a good 'Chyna farting in an elevator' joke."
McMahon finally made it to Dallas around 2 in the morning. Disheveled and hungry, he checked into his hotel room and received a message from the front desk clerk. His wrestling cart had been towed and he will need to be back in Texarkana on Monday to pay the fees to get it out of the impound lot.