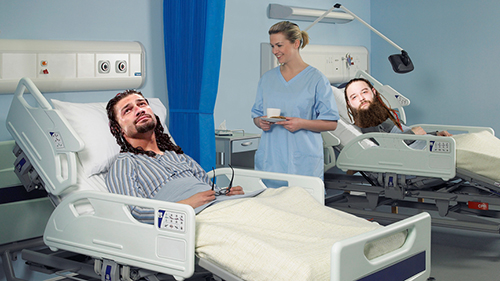 Minneapolis, MN – Matches for TLC were thrown in to chaos as both Roman Reigns and Bray Wyatt came down with a viral illness. Always concerned with the welfare of his Superstars, WWE CEO Vince McMahon skipped TLC and tended to the sick wrestlers.
As a precautionary measure, McMahon sent both wrestlers to Abbott Northwestern Hospital in Minneapolis. Wearing a lab coat and scrubs, McMahon entered the room with a large Edible Arrangement and box of comics.
Sitting on the edge of Reigns's bed, McMahon gently said, "Hey, champ. I heard you were feeling kind of cruddy so I came by to make sure you're doing okay. I even brought you some comics and WWE 2k18 to keep you from being bored while you're in here."
Reigns smiled at McMahon.
"Water," said Wyatt weakly from the other bed. "So thirsty. Please. Water."
McMahon went to the bathroom with a cup of water and straw. He patiently held the straw up to Reigns's lips as he took weak gulps. McMahon then tenderly felt Reigns' forehead.
"My god! You're burning up!" said McMahon who ripped off Roman's blanket and threw it on top of a profusely sweating Wyatt.
"Please…someone…open a window," said Wyatt from underneath his pile of blankets.
"Quiet, Bray!" yelled McMahon. "Can't you see my precious Roman is sick? Here, Ro-Ro, let me put this cold compress on your head. Now shut your eyes and get some rest, sweetie. We need you back as soon as possible."
Suddenly, Wyatt's EKG machine started beeping quickly.
"Bray! Can't you think of anyone, but yourself? Roman is trying to sleep!" said McMahon who kicked the machine, causing the beeps to subside.
McMahon stayed in the room until Reigns fell asleep. As he stood in the doorway, he whispered "Don't worry, Roman. Your spot will be right there where we left it." McMahon paused for a second before sternly saying, "Bray, you're fined $25,000 for missing a Pay-Per-View. Don't let it happen again."