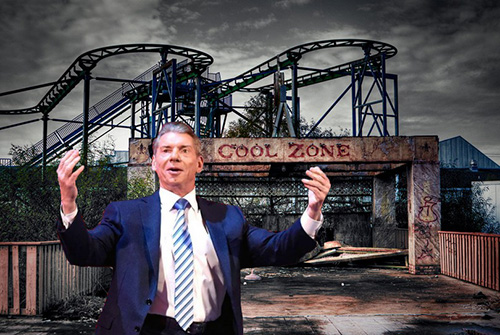 Orlando, FL – At a press conference, WWE CEO Vince McMahon revealed details for the company's plans to open their very own them park.
Flanked by daughter Stephanie, son Shane, son-in-law Triple H, and the mayor of Orlando, McMahon laid out his vision for the historic theme park.
"It is the number one priority of the WWE to entertain the WWE Universe," said McMahon. "We do that on a weekly basis with Monday Night Raw, 205 Live, NXT, Total Divas, Total Bellas, our monthly events, and that other show. You know the one I mean. It's the one that was on Thursdays and Fridays and now it's on Tuesdays. Shotgun Saturday Night! That's the one!" said McMahon as Triple H slowly died inside.
McMahon continued, "Wrestlemania is the ultimate destination vacation for many of our U.S. and international fans. Of course, the problem with that is it is only one time a year. By having a theme park, we can now gouge, er, entertain our fans 365 days a year!"
"Here is just a small lists of rides and attractions that will be at the WWE theme park: A Tower Of Terror-style elevator ride called 'The Ratings Drop', the Vince Russo-approved 'Swerve-a-Tron', a Merry-Go-Round called 'The Smark', a rollercoaster called 'We Signed Your Favorite Indie Wrestler' and 'Creep Mountain' where Ric Flair hits on your wife, daughter, sister, or significant other," said Shane.
"The theme park won't just be rides, though," said Stephanie. "We're going to have live matches, training sessions, an arcade, the works. There will even be WWE wrestlers roaming the theme park that will be more than happy to take a picture with you when they're at their most tired and vulnerable!"
"There will be plenty of shops to buy stuff, too," said Triple H. "Lots of XFL, ICOPRO, WBF, and WWE restaurant gear. It's worth less than nothing, but people seem to really want it, so we'll charge an arm and a leg. God bless nerds with disposable income."
"We're going to have an incredible food court with all sorts of food options. Hamburgers, hot dogs, popcorn, candy, whatever Canadians eat. It's going to be great. I'm very proud of our make-your-own stew bar. Kids love stew," said the 71 year-old.
"Prices are still to be determined, but we might just have Big Show stand at the gate, turn fans upside down and shake them until all their money falls out," said Stephanie.
"The WWE Theme Park is set to open in spring of 2015!" declared McMahon to the confusion of many.
Triple H whispered in McMahon's ear, causing the CEO to exclaim, "Really?! And they still don't love Roman Reigns?"
The group nodded silently.
"Uhh, well, then…the WWE Theme Park will be ready in 20-something-something. Get your tickets now!" shouted McMahon before flipping over a table and escaping through an exit in the confusion.