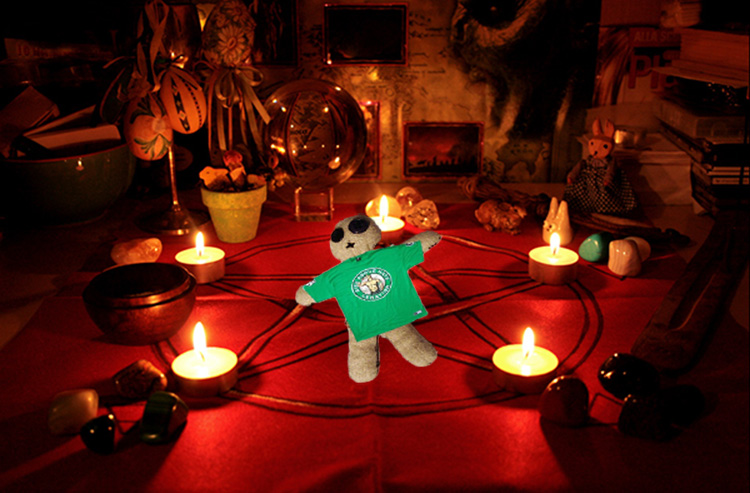 Fort Worth, TX – WWE CEO Vince McMahon cautiously walked out into the abandoned parking lot. He took a moment to let his eyes adjust to darkness. The time on his Rolex read 12:00AM.
"Hello?" asked McMahon. "Are…are you there? It's me. You said to meet here exactly on the stroke of midnight"
A garbage can erupted in flames, causing McMahon to shield his eyes and step backwards. The song "Jive Soul Bro" emanated from a boom box next to the garbage can.
"Brother, I am most definitely here and you are right on time," said Slick.
"Good, let's get this over quickly," said McMahon. "This place gives me the heebie jeebies and the willies. Plus, my underwear is all kinds of swampy."
The parking lot began to fill with an eery fog. Former WWE Superstar Papa Shango emerged out of thin air and said, "We are ready to begin the ceremony."
"This needs to be done tonight. I'm losing my grip on him! Here, take these items I stole from his locker" said McMahon.
"Yes. Yes, this will do nicely," said Papa Shango while placing the items into a smoking cauldron. He placed a small doll in the middle of a red circle "Now say the sacred words!"
McMahon read from the Wrestlingnomicon, an ancient text containing carny spells and incantations. The flames from the garbage can rose in an unnatural fury with each word. Papa Shango convulsed and twitched while throwing ingredients into the cauldron.
McMahon watched in the ritual horror. He knew what he was doing was wrong, but was compelled to go through with it. The fate of WWE hanged in the balance and the needs of the many outweighed the needs of the few.
"It's done, brother" said Slick. "In exchange for putting both of us in the WWE Hall Of Fame, John Cena will now remain in the WWE for another ten years. He cannot quit. He will only be able to make television appearances while promoting the WWE and can only appear in terrible comedies starring Amy Schumer."
"That's a relief," sighed McMahon. "Now what about that other thing I asked?"
"Fine," said Papa Shango. "We'll put a blue dot over Braun Strowman's face."