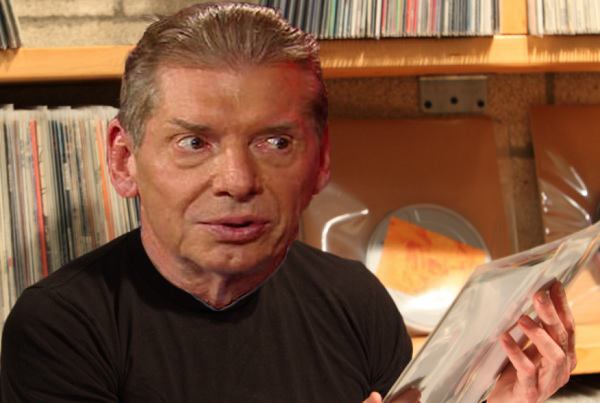 Greenwich, CT – On a lazy Sunday afternoon, WWE CEO Vince McMahon took out his old record collection to come up with more names that would work well for pay-per-views in the vein similar to the upcoming "Great Balls Of Fire" event.
McMahon, wearing his most comfortable pair of ICOPRO sweatpants and a faded and stained Starland Vocal Band t-shirt, laid on the floor of his bedroom looking through old LPs, EPs, and 45s. A slight musky smell wafted through the McMahon mansion as songs from the 50's 60's and 70's emanated from an old record player.
Armed with a glass of Cake Batter-flavored Muscle Milk and a stack of Snackwells Fat Free Devil's Food Cookie Cakes, McMahon feverishly took notes of song titles and lyrics to come up with titling ideas.
"'Stayin' Alive' by the Bee Gees would be perfect to replace Summerslam," said McMahon as his feet tapped to the beat of the disco classic. 'Lady Marmalade' would be good for September. 'Time Of The Season' by The Zombies would be good for after the Rumble. I gotta see if I can get a Hall & Oates song in there too."
"Just imagine, 'WWE Champion Randy Orton will defend his title against Bray Wyatt this Sunday at Tutti Frutti!'. Ugh, so cool!" exclaimed McMahon to himself, kicking his legs in excitement.
As McMahon continued to work, the music began to grow louder.
"Heeeeeey, Aqualung!" yelled McMahon while jumping on his bed and playing air guitar.
Suddenly, a loud banging sound came from beneath McMahon's bedroom.
"Keep it down up there! Some of us are trying to pretend to run government associations!" yelled McMahon's wife, Linda.
"Soorrrrrryyy, dear!" shouted McMahon while turning down the music. "Man, I can't wait for her to go back to Washington. Then I'll be able to listen to my sweet tunes and eat pizza and stay up as late as I want. Man, that's going to be so cool! Then it'll just be me, KC & The Sunshine band, and good times!"