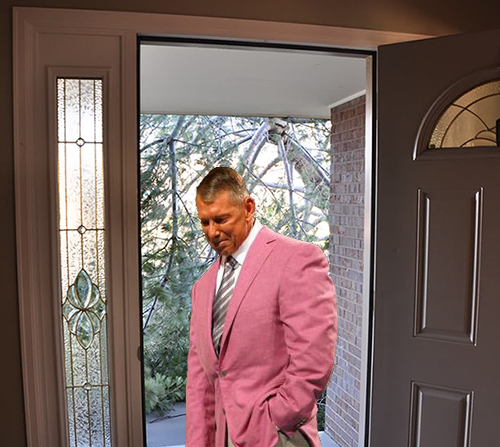 San Francisco, CA – Following the events of Wrestlemania 31, WWE CEO Vince McMahon has begun a trip across the country apologizing.
While Wrestlemania 31 was seen in a positive light overall, the usual detractors were extra vocal, particularly for the Roman Reigns-Brock Lesnar main event. The building criticism of the overall push and direction of the company has caused Vince McMahon to have an acute mental breakdown.
McMahon was first seen wandering around Levi's Stadium parking lot late last night by Andy Peck, creator of the cheese steak/chicken finger sandwich, of Pennsylvania. Peck, who attended Wrestlemania said, "We were about to leave when Vince McMahon himself came right up to me. I didn't know what to say. He just kind of looked at me, said he was "sorry" and left.
Several people have reported similar occurrences.
Whiskey taste-tester Nick Porcaro ran into McMahon at a Buffalo Wild Wings. "I offered him some of my boneless Mango Habanero wings. He looked at me, put his hand on my shoulder, and said "Roman Reigns likes wings. I'm sorry."
Part-time children's clown Mike Catapano heard a knock at his door at 2AM. "I thought it was some drunk or maybe Michael Hayes. I was shocked when I saw the Vince McMahon at my door. It looked like he had been crying. He just mumbled something about being sorry before going next door."
"Vince walked up to me in my yard and gave me a hug," said Tumblr moderator Aaron Folsom. "It was nice. Weird, but nice. He really squeezed me hard."
Adult film voice-over actor Ken Cavalerro's breakfast was interrupted by McMahon. "There was a pounding at my door. I put down my waffle and opened the door. Vince freaking McMahon barged right past me, said 'Sorry for last night' and went right into my bathroom. I can't believe a McMahon took a Cena right in my own house!"
Other fans were less enthused by their interaction with the broken McMahon.
"He gave me an Uso shirt as an apology. I hate the Usos!" said professional curling player Cara Fritz.
"McMahon woke me up from the best Batista dream ever. He was in a blue bodysuit and we were shopping for hats. It was magical!" said Oreo quality controller Charles Oviedo.
One fan was particularly incensed.
"I was actually moving a couch into my apartment when two men approached me," said nude model Chriztophe Shingleton. "It was a tired Vince McMahon and Roman Reigns. He had Reigns lift the couch for me and brought it inside. I can't believe he tried to have Reigns look strong after last night. And he put the couch in the wrong room!"
Vince was last scene walking down highway 280 with a hand-drawn sign saying "Please forgive me!"