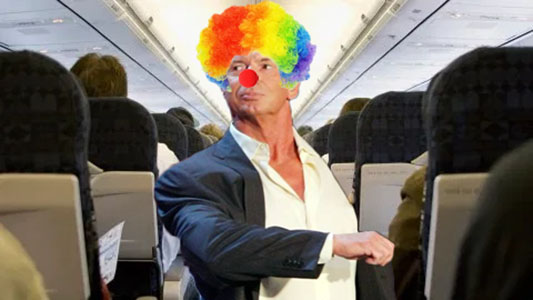 Riyadh, Saudi Arabia – During an extensive delay of their flight leaving Saudi Arabia, WWE CEO Vince McMahon did his best trying to keep his wrestlers happy.
Trying to make the best out of a bad situation, McMahon did his famous strut up and down the aisle of the plane. The weary wrestlers politely chuckled at the 74-year-old's iconic herky-jerky walk. Sensing he was on to something, McMahon pushed further.
"So, how many people here are from Parts Unknown? And no, I'm not talking about Braun Strauman's grapefruits!" joked McMahon.
Otis and Tucker, the tag team of Heavy Machinery, stress-ate all the complimentary pretzels on the plane as McMahon continued.
"Who wants to join the 'Kiss My Ass' Club?" asked McMahon, pulling his pants down and wiggling his rear end. McMahon then took Natalya's lipstick, crudely drew eyes and a smile on his backside, saying "Look at me! I'm Michael Cole!" laughed McMahon.
Former Cruiserweight champion Buddy Murphy was physically restrained by flight attendants from opening the emergency exit.
"Hey, Ali! Turn that frown upside down!" said McMahon slapping Mansoor on the back.
"Anyone want to play charades?" asked McMahon. "I've got it! Let's sing some songs! How about some Engelbert Humperdinck? Who knows the words to 'Stand Back'? Seth come up here and help me out!"
"I just want to go home," said Seth Rollins, practically in tears.
Recognizing he was losing his audience, McMahon brought out the big guns. Donning a rainbow wig and foam red nose, McMahon played various wrestler theme songs on a slide whistle.
Half of those in attendance has requested a contract release while the other half have gone into early retirement.