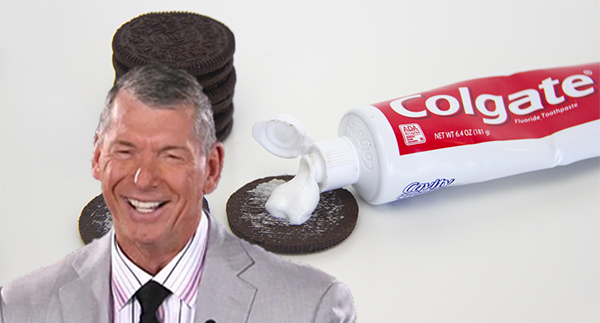 London, UK – Following last week's angle that featured The Revival suffering the effects of having "Ucy Hot" placed in their trunks, Vince McMahon has personally started pulling pranks on the tag team.
During the company's overseas flight, McMahon continuously tapped both Scott Dawson and Dash Wilder on the shoulders and pretended to be doing something else when they looked. When their meals were served, McMahon ensured that they received the vegan option. In the middle of the in-flight movie, McMahon texted them the surprise twist ending. While they were sleeping, the CEO of the publicly traded company, placed their hands in warm water.
The pranks continued once everyone checked in to the hotel. A giddy McMahon poured hot sauce into the tag team's shampoo, placed Saran Wrap across the toilet, placed a dead fish in their air conditioner, and glued the television remote to the carpet. In a move bereft of self-awareness, McMahon replaced their pillows with shredded "Be A Star" flyers.
At the arena, McMahon worked with the production team to change The Revival's name on their Titantron to "The Buttvival" and instructed the announcers to address them as such. He then took all the cream filling out of the Oreos in catering and replaced them with toothpaste. While in the ring, McMahon blew his nose in their passports, and threw out their pants.
In the cruelest prank of them all, McMahon extended The Revival's contract for another year.
"That'll teach The Revival to have thoughts and…and…Kevin, what's that word? You know the one that you always say I hurt?"
"Feelings," sniffed WWE executive producer Kevin Dunn.